League Forward: Fall 2023

The Newsletter for Supporters of the League of American Orchestras
Dear Friends,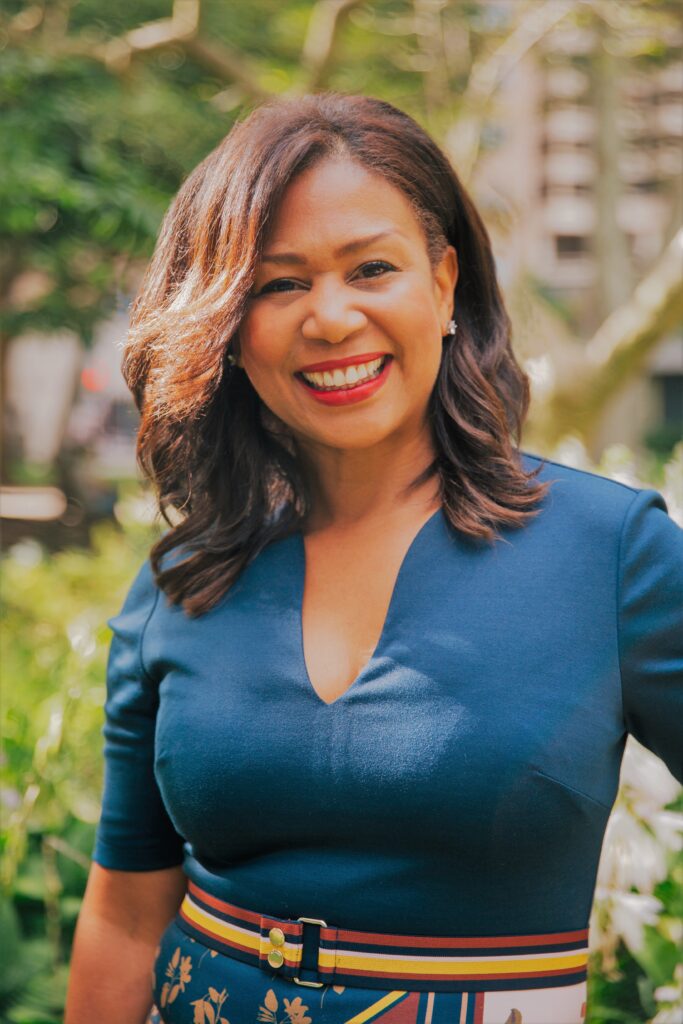 Welcome to League Forward! We are thrilled to share recent highlights and the impact your support has for orchestras across the country, and for the field. As our field continues to evolve, our mission remains clear: to champion the vitality of music and the orchestral experience, support the orchestra community, and lead change boldly. We remain committed to this important work, and we could not do it with you, our donors and supporters. Your investment in us allows us to ensure that this art form is strong and sustainable. Your support makes it all possible. Thank you!
With gratitude,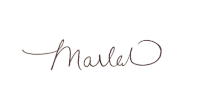 Marlah Bonner
Vice President, Development
League of American Orchestras
---
In This Issue
---
Donor Spotlight: Connie Steensma
Meet the people who help drive the League's critical work for orchestras and the field.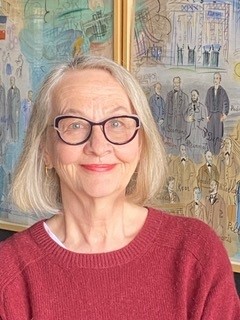 Connie Steensma is a Trustee of the Orpheus Chamber Orchestra, and served on the Board of Directors for the Bridgehampton Chamber Music Festival from 2007 to 2020. She is Board Emeritus for the League of American Orchestras, where she served on the Board of Directors from 2003-2010. "All of the classes and programs were right on the money, and to be sitting with other board chairs and board members who were struggling with the same things—it was such great support. It was exactly the kind of knowledge I really needed, and I knew I'd found a place where I could go for help." Read more from Connie.
---
Announcing the Virginia B. Toulmin Foundation Orchestral Commissions Program 2023-24 Season Premieres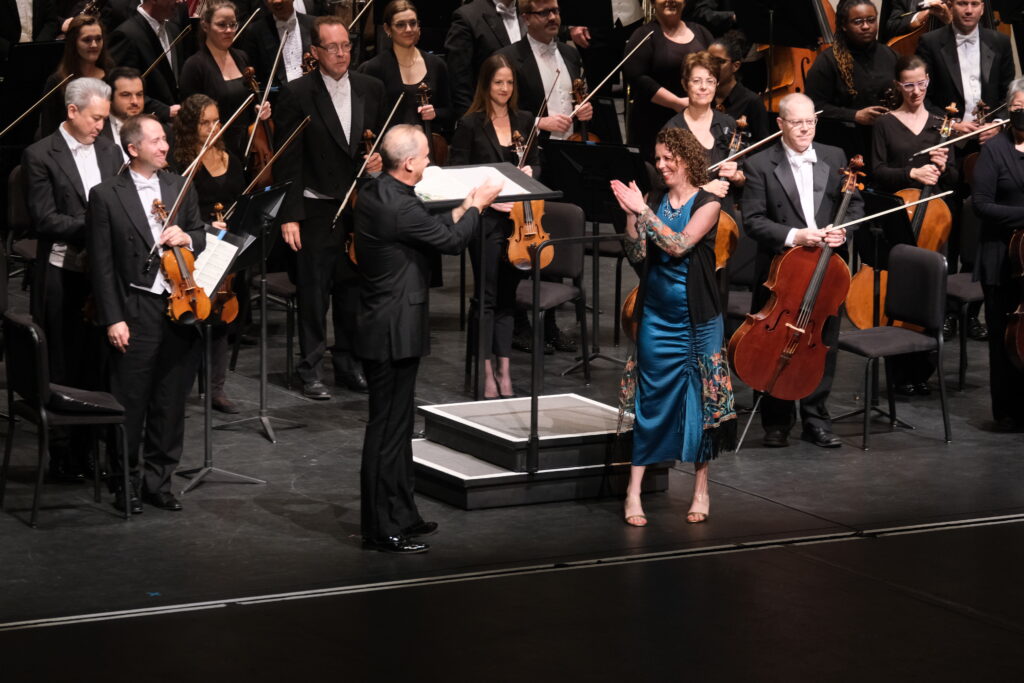 Last season, new works by women commissioned by the League of American Orchestras were performed across the country. Twenty-two women composers in total have now received commissions through the program, a League initiative in partnership with American Composers Orchestra (ACO) and supported by the Virginia B. Toulmin Foundation.
Thirty orchestras will take part in the League's Virginia B. Toulmin Foundation Orchestral Commissions Program. This unprecedented national consortium ensures that new works by women composers, each commissioned by the League, will be infused in orchestra seasons to come, with multiple performances throughout the country.
We are delighted to announce the upcoming Toulmin premieres:
Fall 2023:
Anna Clyne's This Moment will receive its Pennsylvania premiere by The Philadelphia Orchestra and music director Yannick Nézet-Séguin on October 6-8, 2023.
Sarah Gibson's to make this mountain taller will receive its Pennsylvania premiere by the Pittsburgh Symphony Orchestra and conductor Jacob Joyce on October 10, 2023.
Arlene Sierra's Kiskadee will be premiered by the Detroit Symphony Orchestra and conductor Kevin John Edusei on October 19-21, 2023.
Anna Clyne's This Moment will receive its Florida premiere by the Orlando Philharmonic Orchestra and music director Eric Jacobsen on November 4 and 5, 2023.
Anna Clyne's This Moment will receive its Oregon premiere by the Portland Columbia Symphony and music director Steven Byess on November 11 and 12, 2023.
2024
Arlene Sierra's Kiskadee will receive its Louisiana premiere by the Louisiana Philharmonic Orchestra and music director designate Matthew Kraemer on January 25, 2024.
Wang Lu's Surge will receive its Des Moines premiere by the Des Moines Symphony and conductor Keith Lockhart on February 3 and 4, 2024.
Gity Razaz's Methuselah will receive its Canadian premiere by the National Arts Centre Orchestra (Ottawa) and music director Alexander Shelley on February 7 and 8, 2024.
Sarah Gibson's to make this mountain taller will receive its Tennessee premiere by the Knoxville Symphony Orchestra and music director Aram Demirjian on February 22 and 23, 2024.
Arlene Sierra's Kiskadee will receive its Illinois premiere by the Illinois Philharmonic Orchestra and music director Stilian Kirov on February 24, 2024.
Angel Lam's new work will be premiered by the Kansas City Symphony and conductor Michael Stern on March 22-24, 2024.
Sarah Gibson's to make this mountain taller will receive its Michigan premiere by the Lansing Symphony Orchestra and music director Timothy Muffitt on March 23, 2024.
Wang Lu's Surge will receive its Florida premiere by the Pensacola Symphony Orchestra and music director Peter Rubardt on April 20, 2024.
Anna Clyne's This Moment will receive its Ohio premiere by the Columbus Symphony and music director Rossen Milanov on May 3 and 4, 2024.
Anna Clyne's This Moment will receive its Washington, DC premiere by the National Symphony Orchestra and conductor Thomas Wilkins on May 16-19, 2024.
---
Preparing the Next Generation of Orchestra Leaders: Essentials of Orchestra Management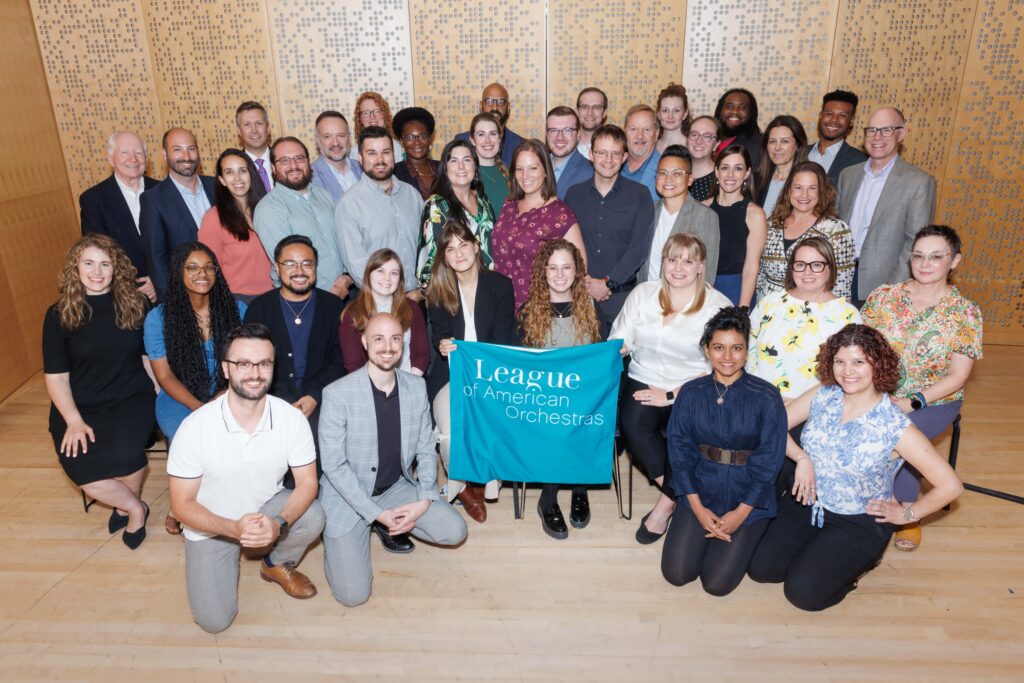 An international cohort of thirty-six orchestra and arts professionals participated in Essentials of Orchestra Management, the League's premier professional leadership development program. The ten-day program ran from July 26-August 4, 2023. Presented in collaboration with Juilliard Extension, Essentials was held again this year in New York at Juilliard's Lincoln Center Campus. America's flagship program for early- and mid-career orchestra and arts professionals, Essentials continues to offer real pathways to future leadership and career success. Since its inception in 2000, more than 550 individuals have participated in the program. This year, an international cohort of 36 participants explored and tackled a rigorous curriculum including artistic planning and artistic leadership, development, finance, strategic planning, EDI, education, community engagement, youth programs, human resources and organizational culture, leadership and governance, advocacy, marketing and communications, and operations and negotiations.
This year, our participants had much to offer about their experiences in Essentials:
"This was such a positive, life changing experience. I truly have never been a part of something so meaningful and moving that was still so focused on the work and building a knowledge base. Thank you all, so much, for what you gave to me."
"The Essentials experience was truly profound on many levels, personal and professional. With each passing day of informational presentations, engaging and inspiring speakers, a great deal of self-reflection and meditation, I felt encouraged about the orchestra industry and how I can continue to play a role in it. My passion and dedication to the industry has never been stronger. Also, tremendous kudos to the core faculty and staff. Bravo!"
"This has so far been the most impactful 90-minutes of my experience so far [Women in the Arts Field]. I've never had the opportunity to witness a panel of female professionals in our field speak about their experience as a woman in our industry. For the first time working in this industry, I felt understood, empowered, and valued equally for what I believe is possible in our industry, and what is possible as a female leader in our industry. I would love to see more opportunities like this through the League – more events/meetings/seminars/etc. focused on women in the field – in the hopes of continuing to connect and support us. Thank you SO much for this."
The League is thrilled to announce partnerships with the 25th Century Foundation and Trish and Rick Bryan, who provide funding for Essentials scholarships for Black, Indigenous, People of Color (BIPOC) participants, and for those with financial need. Donors like these, and you, make our work possible!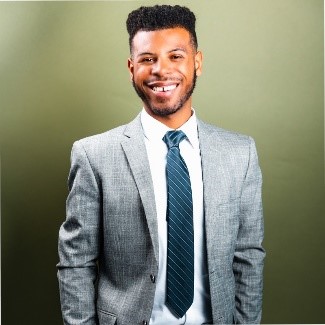 "The faculty and guest speakers at Essentials gave me fresh insights into marketing and community engagement. Now I can apply these ideas to my work, following best practices and forming genuine relationships with the communities we serve. Thanks Essentials faculty and cohort members, I am a more effective leader in my organization." – Marquise Lindsey-Bradley, 25th Century Foundation Essentials of Orchestra Management Scholar
---
League Alumni Network: July Alumni Reception: New York City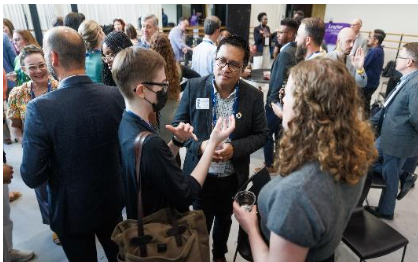 The League hosted its second regional gathering of the League Alumni Network on July 31 in New York City. This event took place in conjunction with the League's Essentials of Orchestra Management program at The Juilliard School. Alumni participated in a session on Organizational Culture with Anwar Nasir, Executive Director of the Louisiana Philharmonic Orchestra, and enjoyed a cocktail reception where they networked, re-connected with colleagues, and met new friends. Most importantly, alumni had the opportunity to meet the 2023 cohort of Essentials participants and welcomed them into the League family.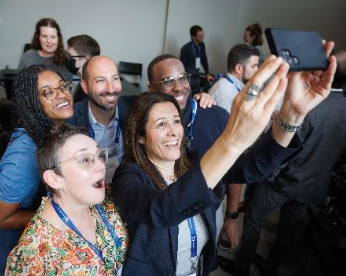 We received great feedback from this event along with requests for additional opportunities to convene. Fall plans for the League Alumni Network include several virtual and in-person gatherings around the country. Stay tuned! The League Alumni Community connects as a group on LinkedIn. For more information about the League Alumni Network, please contact Scott Faulkner at sfaulkner@americanorchestras.org.
---
Investing in Women and Non-Binary Leaders: The Anne Parsons Leadership Program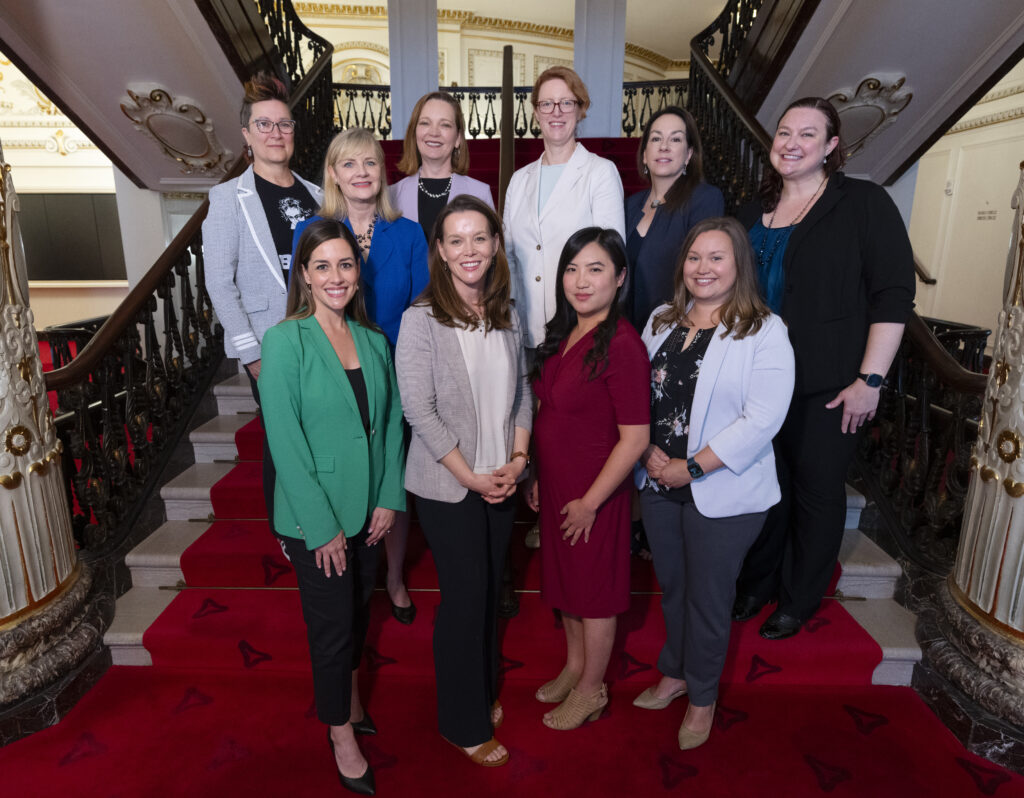 The inaugural cycle of the Anne Parsons Leadership Program runs from June 2023 to June 2024. A new initiative from the League, the Anne Parsons Leadership Program honors Anne Parsons, the transformative orchestra leader and mentor who passed away in 2022. This pilot program's goal is to accelerate structural change by supporting women and non-binary orchestra professionals in their career progressions. The program will advance a new generation of candidates with the capacity to take on c-suite roles in major orchestras as well as building a culture of mentorship, coaching, and support across our field. The League expects to grow the program after the pilot, with the intention that it be a permanent part of the League's leadership offerings.
For the June 2023-June 2024 cohort, six participants were selected based on their demonstrated experience and commitment to leading and serving American orchestras – including but not limited to alumni of the League's longstanding leadership programs and individuals from backgrounds that have been historically underrepresented in the orchestral field.
Each participant will meet individually with their mentors monthly, attend quarterly cohort meetings, and receive training on topics such as women's leadership and gender inclusivity. The cohort selected for the program participate free of charge. Each participant receives a travel stipend and free registration to the League's National Conference to contribute their insights to the national conversation about orchestras and our field. . In addition, program participants will receive a one-year professional membership to the League of American Orchestras.
The launch of the Anne Parsons Leadership Program is made possible by generous support from League Board member Melanie Clarke, Colbert Artists Management, current and former orchestra executive directors, and arts leaders nationwide. If you would like to make a gift of support for the Anne Parsons Leadership Program, you can do so online.
---
League 78th National Conference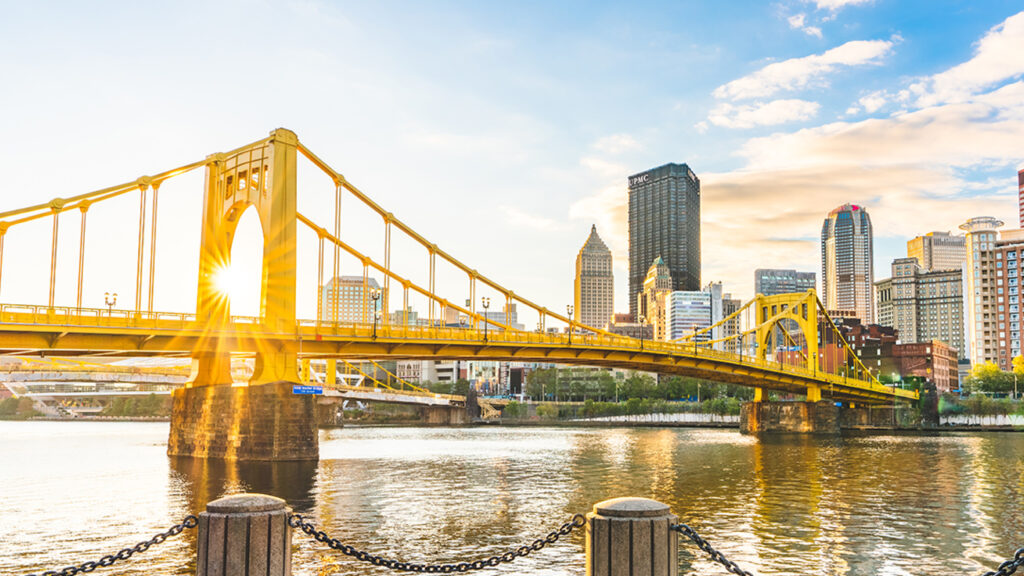 On June 14-16, more than 1,000 orchestra administrators, conductors, musicians, composers, trustees, and volunteers gathered in Pittsburgh for the League's National Conference: "Bridges to the Future."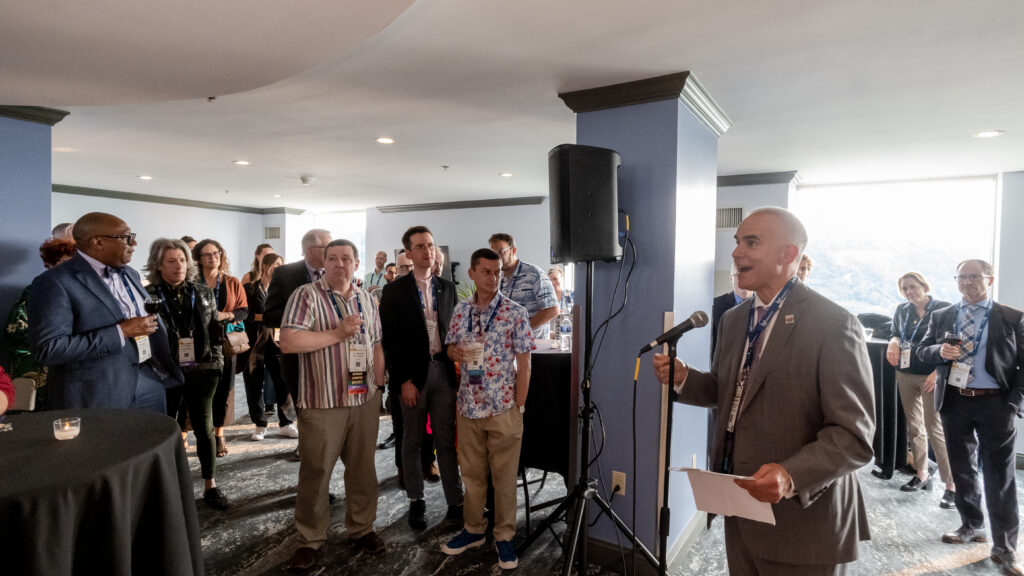 We kicked off the League's 78th National Conference in beautiful Heinz Hall with performances by both the Pittsburgh Youth Symphony Orchestra, playing Danzón No. 2 by Arturo Márquez led by Music Director Jacob Joyce, and the Three Rivers Young Peoples Orchestras, playing Umoja, Anthem of Unity for orchestra by Valerie Coleman under the direction of Music Director and Conductor Brian Worsdale.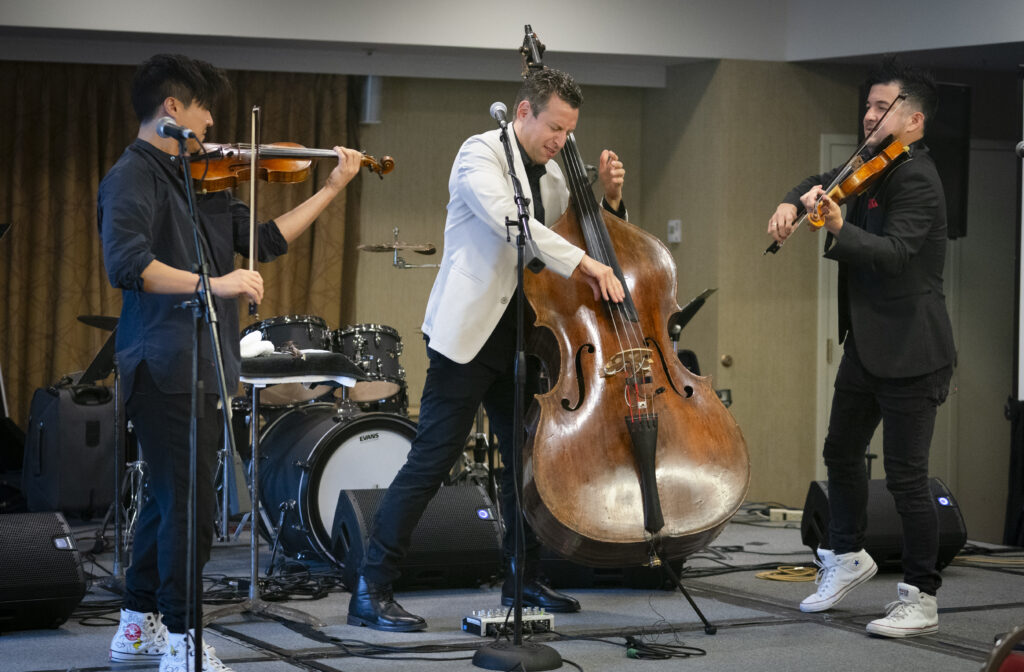 This year, the orchestral field gathered with a focus on building a sustainable future for orchestras that reflects our communities, building a culture of innovation, sharing effective business practices, and exploring how we redefine the art form's relevance for generations to come.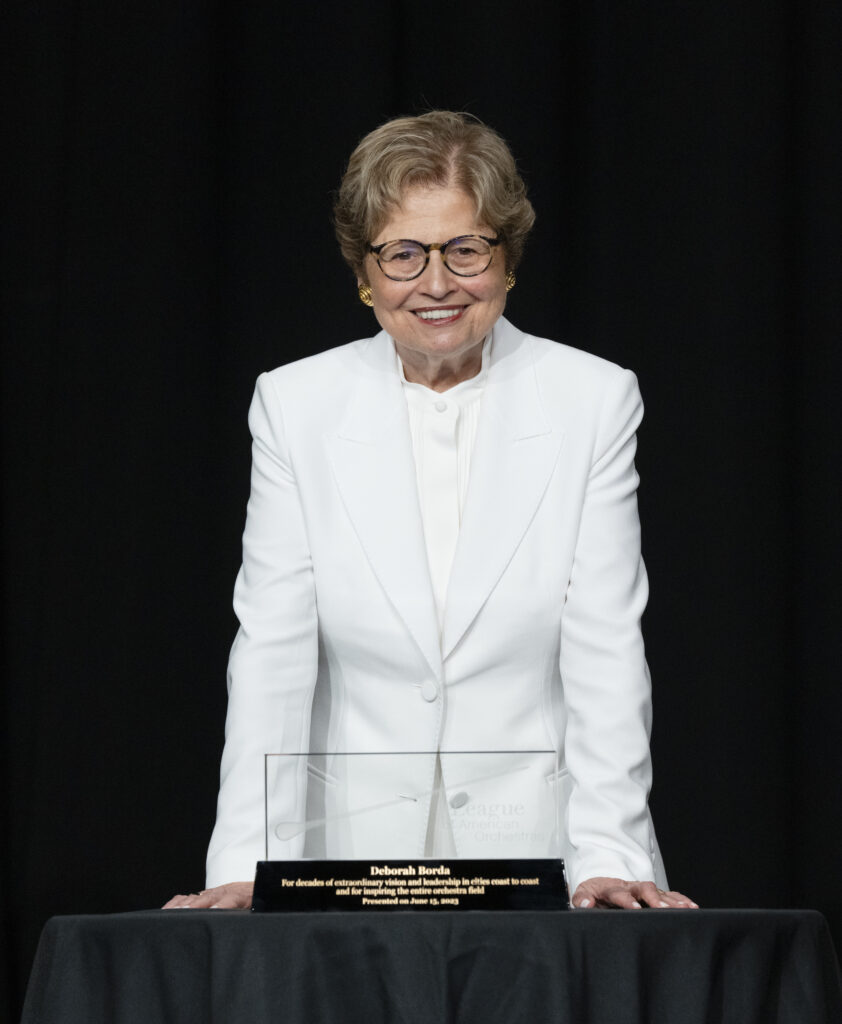 The League was thrilled to present the Gold Baton Award to the outgoing President and CEO of the New York Philharmonic, Deborah Borda, and to reflect on how her work not only led two of the nation's most prominent orchestras through periods of remarkable growth and development, but how she extended the boundaries of what orchestras can be in the 21st century.
Conference closed with an inspirational keynote from Byron Stripling, the Principal Pops Conductor of the Pittsburgh Symphony Orchestra. His powerful story about his devotion to giving back and the power of music was the talk of the final day. Byron's remarks were the most requested video from Conference, and although the video is no longer available, we encourage you to view a transcript (PDF) of it.
Save the date! Our next National Conference will take place in-person in Houston on June 6 – 8, 2024. The League is thrilled to hold its 79th National Conference in Houston, one of the few major American cities that we have not visited. We look forward to gathering with friends and colleagues in one of the most diverse cities in the country, with its vibrant classical music scene. We are delighted to be hosted by the Houston Symphony with an exciting new music director, Juraj Valčuha, and to feature performances by ROCO,  and the Mercury Chamber Orchestra. Save the date, and see you in Houston!
---
Register Now! Exclusive Donor Event
We are excited to invite you to an exclusive League donor event on "Youth Perspectives on Engaging with Orchestras," held October 30 from 4:30-5:30pm Eastern. Youth development and participation is central to orchestras' long-term sustainability and the orchestra field has a unique role in supporting young people in realizing their creative potential. On October 30, we are pleased to have Sonja Thoms, Executive Director, Wheeling Symphony Orchestra and Lindsey Nova, Executive Director, Three Rivers Young Peoples Orchestra with us to share findings from their recent survey of young musicians. They will discuss the priorities of the next generation and the factors influencing how youth participate and invest in our field – as musicians, future audience members, and philanthropists.
We hope you can join us for this informative and forward-focused session. Registration is easy – you will receive a Zoom link in your confirmation email. We look forward to seeing you October 30!
---
Charitable News You Can Use: New and Enhanced Charitable Giving Incentives
Last December, President Biden signed into law a modified version of the Legacy IRA Act that expands the IRA Charitable Rollover:
Permanently indexes the existing IRA Charitable Rollover amount (currently at $100,000) starting in 2024. This will be the first increase in nearly 20 years.
Expands the IRA Charitable Rollover to allow taxpayers age 70½ to contribute up to $50,000 from their traditional IRA account to charities to fund a charitable gift annuity, a charitable remainder annuity trust, or charitable remainder unitrust. The $50,000 cap can only be used in one calendar year in their lifetime, but within this one-year period, seniors can make gifts to multiple charities. The life income provision takes effect in January 2023 and will be permanent.
Consult your qualified professional advisors on how a gift might fit into your estate planning and your eligibility for tax benefits.
---
Speak Up! Support a Non-Itemizer Charitable Deduction
Orchestras receive support from a broad base of donors, contributing meaningful gifts in amounts of all sizes. During the pandemic, Congress passed a temporary giving measure that allowed non-itemizers who take the standard deduction to enjoy a tax deduction for charitable gifts. In 2020 this was limited to $300 and in 2021 this was adjusted to $300/$600 so that joint filers could enjoy a larger deduction. "The Charitable Act" has been introduced this year in both the House and Senate and would raise the previous $300/$600 cap on the non-itemizer deduction to one-third of the standard deduction, equal to roughly $4,500 for individuals and $9,000 for joint filers. The League has been a long-time partner in advocating alongside nonprofit colleagues to protect and enhance charitable giving. Voice your support by participating in our e-campaign to urge Congress to cosponsor The Charitable Act.
---
Did You Know? You Can Make an Impact by Establishing a Planned Gift for the League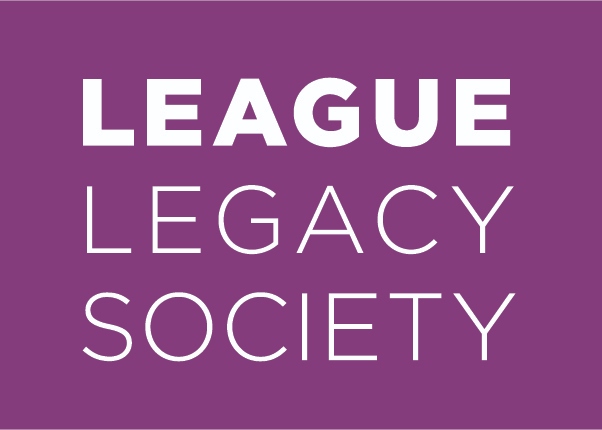 League supporters can leave a lasting legacy for orchestras across the country and the field through a planned gift. The League Legacy Society recognizes donors who have made a planned gift to the League through a charitable giving vehicle—a bequest, charitable trust, donor advised fund, life insurance, and more. A planned gift is a wonderful way to show your support while achieving your own philanthropic, estate-planning, and financial goals. Through legacy gifts, donors create impact for generations to come by contributing to the financial sustainability of the League with an investment that continues beyond their lifetime. Learn more about the League Legacy Society and view a list of supporters or contact Melanie Hausmann, Assistant Director, Annual Fund and Gift Planning, at 646.822.4008, or mhausmann@americanorchestras.org.
Become a member
Thank you for your interest in the League of American Orchestras! We are dedicated to advancing the orchestral experience for all.
Join Now