Spotlight: Connie Steensma
October 2023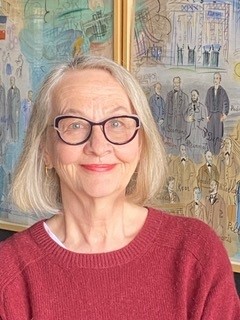 Connie Steensma is a Trustee of the Orpheus Chamber Orchestra, and served on the Board of Directors for the Bridgehampton Chamber Music Festival from 2007 to 2020. She is Board Emeritus for the League of American Orchestras, where she served on the Board of Directors from 2003-2010.
How did you become passionate about orchestras?
It was two things. First, I studied the piano with a piano teacher who was also the conductor of the local orchestra, the Paterson, New Jersey, Philharmonic. I started at age 7 or 8. As I became an advanced piano student, he had me and other of his students play concertos with the Philharmonic. And it was thrilling–absolutely thrilling. Prior to that experience, I didn't realize that orchestras were exciting–we had music class where we saw a picture of a tuba. But it becomes very different when you are up close to a tuba and you hear it, and when I played my little Mozart concerto—suddenly, everything came to life.
Secondly, when I was in high school, one day I was called into the principal's office and told that I had received a scholarship to go to Lincoln Center for free. The publisher and philanthropist Enid provided a scholarship for tickets. So I received all of these tickets to go to Lincoln Center performances, and many of them were for the New York Philharmonic conducted by Leonard Bernstein, and my tickets were fifth row center. It was extraordinary, and my mind was blown. This experience gave me a lot of freedom–I had to learn how to take public transportation to Lincoln Center from my home in New Jersey. I had to learn how to walk to the bus and transfer to the subway to get to the city. My parents were a bit concerned about me traveling alone, but they had to let me go because I received the scholarship, and they would never turn down a scholarship. And this experience is how, at 15, I fell in love with orchestras.
After high school, I went to college in Grand Rapids, but I always wanted to be back in New York. I met my husband in college and he also wanted to be in New York, so ultimately we made our way back, with a stop in Boston, which was also nice. As soon as we landed in New York, we were in heaven and we just started buying orchestra tickets. We had jobs, so we could actually afford to buy tickets. We lived on the Upper West Side, and we've never strayed from the Upper West Side—we're still here. And we walk to the Philharmonic, which is just great.
How did you learn about the League?
I suddenly found myself Chairman of the board of the Orpheus, and—while I loved Orpheus—I really knew nothing about the orchestra world, and Orpheus was going through what you might call a turbulent time. I didn't know anything about the League then, and no one I knew was familiar with the League. So in whatever form of Google we had back then, I typed in the words "Orchestra Help." I really did this! And the League popped up—there was a conference for orchestra board members coming up the following week. So I called the League, and told them I was the Orpheus board chair, and they told me I could sign up. I was supposed to go on vacation with my husband, but I said, "Rick, I have to do this." So he actually came along with me for three days and went bike riding around in Massachusetts. The conference was extraordinary. It was exactly what I needed, when I needed it. All of the classes and programs were right on the money, and to be sitting with other board chairs and board members who were struggling with the same things—it was such great support. It was exactly the kind of knowledge I really needed, and I knew I'd found a place where I could go for help. I knew about boards—I had been on boards before, but the orchestra world is very different.
How did you become a League Board member?
I was very surprised when they invited me. The people—everybody says this, but it's true—the people who are involved with the League, the board members—they are just the best, they are amazing. They are the most beneficent, the most generous, the most caring, the most hard-working. The League gives you everything. They are moved by their hearts and their souls and they just give it away. They love music. They love orchestras. They love this art form.
What do you believe is the biggest impact the League has on orchestras and the field?
There are two things: First, being at the forefront of thought and practice for the orchestral community, and second, being a place where members of the orchestral community can find common ground and learn from each other.
Article Topics:
Related Links & Assets
Become a member
Thank you for your interest in the League of American Orchestras! We are dedicated to advancing the orchestral experience for all.
Join Now