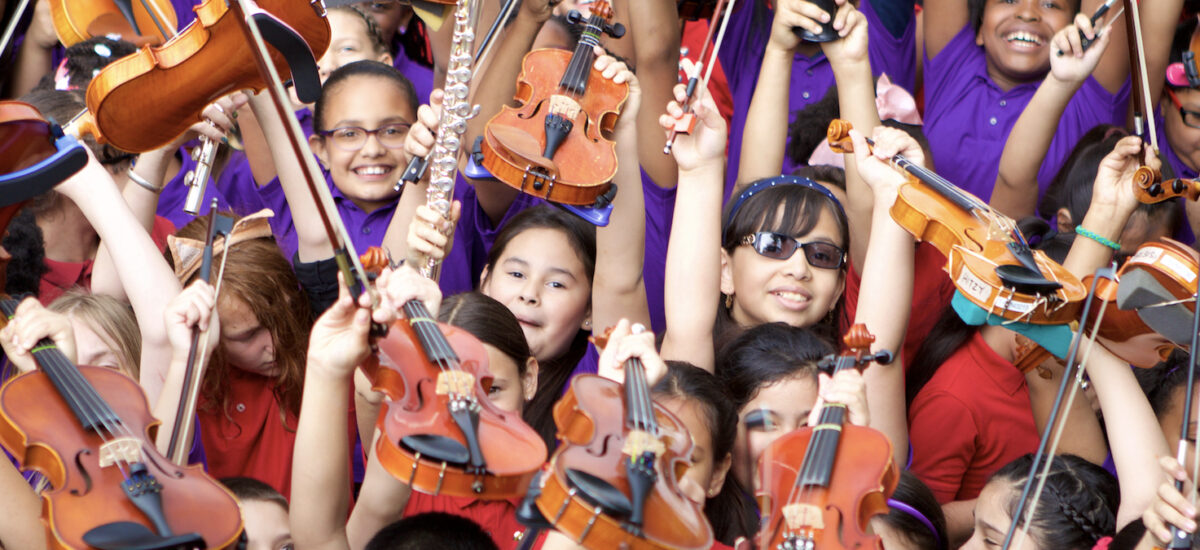 Orchestras Support In-School Music Education
In This Section
Join the National Effort & Commit to Local Action!
See the 280+ orchestras that have endorsed the Statement of Common Cause!
---
The public education system can uniquely broaden or narrow countless opportunities for each generation. Unfortunately, research continues to point to ongoing barriers to student achievement in the arts, with significant racial/ethnic, gender, and socioeconomic gaps in access to a complete arts education. The most recent national snapshot of the availability of arts education, in 2012, found that the highest-poverty school have the least access to arts learning, prompting the Secretary of Education to declare that the state of arts education is "is absolutely an equity issue and a civil rights issue."
As part of the League of American Orchestras' commitment to diversity, equity, and inclusion, we encourage orchestras to listen for an understanding of community needs and create deep connections with local partners. As civic-minded community-based organizations, America's adult and youth orchestras can help to improve access to the benefits of music learning by advocating locally for in-school music education.
The statement of common cause, "Orchestras Support In-School Music Education" (PDF) was first drafted in 2007 with input from more than 50 orchestras and reflects a collective opportunity for all orchestras to take individual, community-specific action to improve access to music education in schools nationwide. In 2018, League refreshed the statement with input from orchestras as well as partners in the broader arts and education communities.
The League is encouraging all adult and youth orchestras to endorse this statement of common cause, take action locally, and share information about advocacy experiences.
Sign On! All orchestra executive directors are invited to let us know that your orchestra endorses this statement of common cause by completing this short form.
Share and Discuss the Statement. Use this statement of common cause to stimulate conversation within your orchestra about support for music education in the schools. We encourage orchestras to review the statement among staff, musicians, trustees, and volunteers. All are essential to successful music education advocacy!
Inform us of your local advocacy activity. The sign-on form invites you to let us know of existing and emerging advocacy underway by your orchestra. If your orchestra has previously signed the statement, please to let us know of your ongoing endorsement and fill us in on local actions you have planned.
Take a first step. Whether beginning for the first time or building on existing advocacy, check out our Ten Tips for Launching Your Advocacy Effort and consider the list of Sample actions your orchestra might take to advocate for music education in your community.
Learn More. View the League's updated Music Education Advocacy Tools, available to support your local efforts. Questions? Please contact Heather Noonan, League Vice President for Advocacy or Najean Lee, League Director of Government Affairs & Education Advocacy.
---
Banner: Young musicians at BRAVO Youth Orchestras celebrate after their spring concert. Photo: Richard Kolbell
Contact Congress
Raising your voice about key issues before Congress is essential. Contacting Congress is easy to do, and your communication with elected officials will ensure that communities nationwide continue to benefit from orchestral music.
Show Your Support