Gold Award of Excellence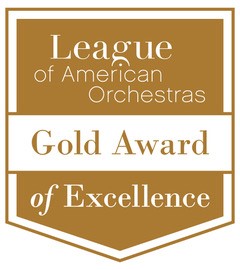 Thank you for your interest in the League Volunteer Council's Gold Award projects!
The Volunteer Council of the League of American Orchestras knows firsthand the rewards and challenges of initiating and executing projects that benefit orchestras. Each year the Volunteer Council invites organizations to submit outstanding volunteer programs for recognition at the League's National Conference.
The Gold Award of Excellence recognizes best-in-class programs or initiatives that have made a significant impact on their orchestras. Winners may share their programs with other League volunteers.
Judges may acknowledge entries not chosen for a Gold Award with a Spotlight Award to recognize a best practice or specific tactic within a program that has contributed to its overall success or is a practice or tactic worthy of highlighting in its own right.
At the judges' discretion, one or more entries may receive a Classic Award to acknowledge a body of achievement. These are initiatives undertaken over many years or decades, which have demonstrated sustained excellence and value to the organization as well as made a long-term impact on its success.
Project Categories
Gold Awards of Excellence: Announcing the 2020 Winners!
Become a member
Thank you for your interest in the League of American Orchestras! We are dedicated to advancing the orchestral experience for all.
Join Now