Gold Award of Excellence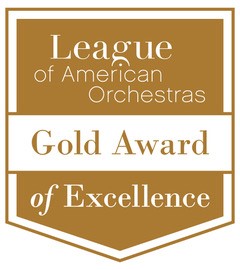 Thank you for your interest in the League Volunteer Council's Gold Award projects!
The Volunteer Council of the League of American Orchestras knows firsthand the rewards and challenges of initiating and executing projects that benefit orchestras. Each year the Volunteer Council invites organizations to submit outstanding volunteer programs for recognition at the League's National Conference.
The League of American Orchestras Volunteer Council is now accepting project submissions:
Deadline for project submission is Friday, September 8, 2023
There is no fee to enter and no limit to the number of projects that an organization may submit
Qualifying projects must have been completed between Friday, July 1, 2022 and Friday, June 30, 2023 (unless it is an ongoing project)
Winners will share information about their award-winning project with other volunteers at the League 2024 Conference
The Gold Award of Excellence recognizes best-in-class programs or initiatives that have made a significant impact on their orchestras. Each winner receives a crystal award at a special reception and makes a PowerPoint presentation to fellow volunteers during the Conference.
Judges may acknowledge entries not chosen for a Gold Award with a Spotlight Award to recognize a best practice or specific tactic within a program that has contributed to its overall success or is a practice or tactic worthy of highlighting in its own right.
At the judges' discretion, one or more entries may receive a Classic Award to acknowledge a body of achievement. These are initiatives undertaken over many years or decades, which have demonstrated sustained excellence and value to the organization as well as made a long-term impact on its success. (Please note: if your organization has previously won a Classic Award, the same project may not be resubmitted.)
Project Categories
Fundraising is one of the Gold Award of Excellence's most popular categories, highlighting creative and successful elements of fundraising projects. Fundraising projects are considered especially successful when there is a high ratio of profit to expense (i.e., at least 60% profit to 40% expense ratio).
Communication/Technology projects highlight uses of communication and technology to promote and enhance volunteer activities. These projects should demonstrate effective use of contemporary technology to bring some aspect of the orchestra to a specific population.
Community Engagement projects increase knowledge of the orchestra within the community. They have greater value when there are external partnerships between symphony staff, volunteers, musicians, etc. and/or external partnerships with other organizations within the community. Audience Development projects should have the potential to generate an increase in season or single ticket sales and/or attract non-concert going members of the community.
Education projects bring music educational opportunities to children, youth and/or adults by various means such as camps, classes, competitions, petting zoos, etc. These projects have greater value when there are collaborations with schools and other non-profits in the community.
Membership projects are designed to recruit, retain, recognize, and train orchestra volunteers. Membership projects should show an increase in membership numbers or an ability to retain current membership.
Leadership/Organizational Structure projects highlight attempts at building leadership and developing organizational structure by identifying, developing, and encouraging leadership. Leadership/Organizational Structure projects should present models for successfully engaging or training your organization and its membership.
Service projects are any projects that focus on providing support or assistance to the orchestra, orchestra staff, or musicians. Service projects should showcase the unique ways you serve your orchestra and the community.
Flexibility/Adaptability is being continued as a category this year after being introduced in 2020 due to the global pandemic's impact on orchestras and volunteer organizations. Volunteers had to pivot from organizing elaborate events and programs to creating smaller gatherings or online events. Being flexible and adapting have been keys to success in the "new normal." The need may likely continue.
View the Gold Award of Excellence Online Database.
The Gold Book Award was created in 1976 by the Volunteer Council (formerly known as the Women's Council) and by Ralph Black, executive director of the League of American Orchestras, who secured a grant for the first publication. The legendary name comes from the idea that the book is "worth its weight in gold." In 1976 copies sold for $5.00. The book's purpose was to highlight volunteer organizations' activities and provide innovative examples for other volunteer organizations to adapt and follow. In the years since then, the Gold Book has proven itself a goldmine for volunteers across the country and Canada. And since transitioning to an online platform in 2005, accessing this resource is even easier (and free). And in 2019, the award was renamed the Gold Award of Excellence.
Become a member
Thank you for your interest in the League of American Orchestras! We are dedicated to advancing the orchestral experience for all.
Join Now