World Music/CRASHarts Tests New Format and Name To Draw New Audiences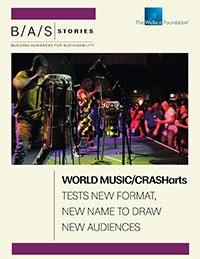 How does an arts presenter increase name recognition and attract younger audiences? An article and video from The Wallace Foundation's Building Audiences for Sustainability initiative show how the Boston-based World Music/CRASHarts built loyalty and name recognition among younger audiences by creating a new annual festival, rebranding, and using creative marketing techniques to encourage repeat attendance during its regular season.
Become a member
Thank you for your interest in the League of American Orchestras! We are dedicated to advancing the orchestral experience for all.
Join Now