Think Opera's Not for You? Opera Theatre of Saint Louis Says Think Again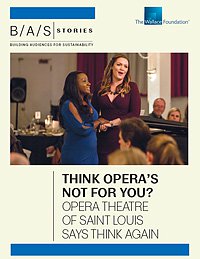 How can performing arts groups use market research to develop programs that appeal to new audiences? A just-released study and video from The Wallace Foundation's Building Audiences for Sustainability initiative show how the Opera Theatre of Saint Louis used market research to understand and reach new audiences—with lessons that orchestras can apply. The report and video track how the opera company deployed intel from market research to close the perception gap to reach younger, more diverse audiences and to refine activities designed to build audiences for the long term.
Become a member
Thank you for your interest in the League of American Orchestras! We are dedicated to advancing the orchestral experience for all.
Join Now