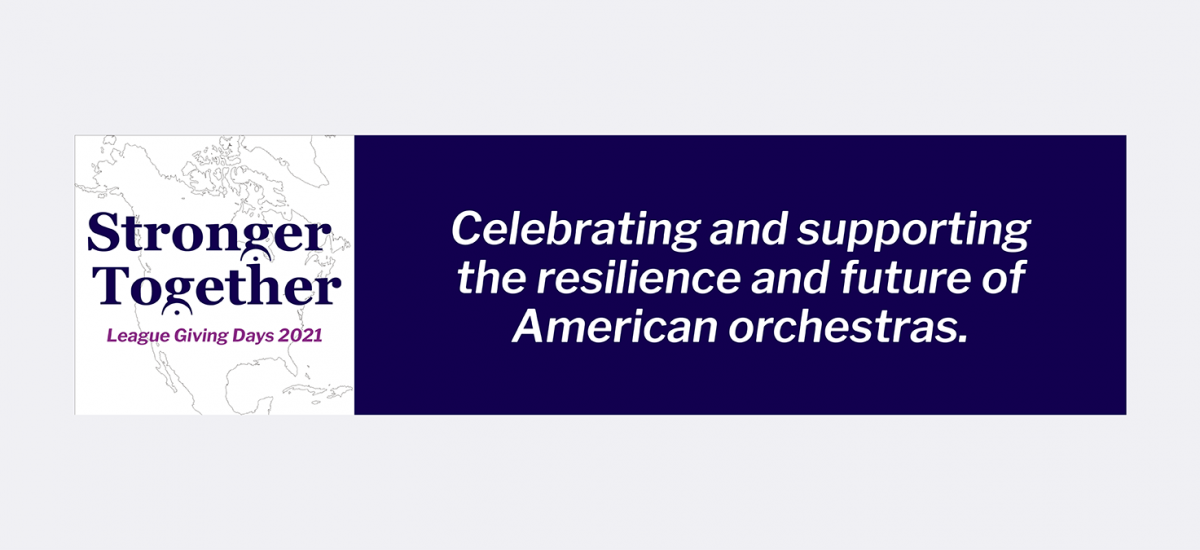 Stronger Together: League Giving Days 2021 (June 1-30)
In This Section
Be a part of our Stronger Together community by making a gift to the League this June.
Over the past 15 months, the orchestra community has proven time and again how strong it can be when we all work together. Stronger Together: League Giving Days 2021 celebrate this resilience and aid the League of American Orchestras in its ongoing work supporting the future of American orchestras.
Like most nonprofits, the League has seen very challenging revenue declines during the pandemic. However, recognizing that in times of crisis organizations rely on the League's work more than ever, we chose to step up our service to the field, rather than reduce it.
To date, the League has invested more than $1M, and thousands of hours of staff time to continue our critical work for our orchestras on their path to recovery—advocating for the inclusion of orchestras in federal relief packages, convening members for solidarity and the sharing of ideas, and delivering vital information and learning needed to navigate the crisis. It's now vital that the League replenish its resources as we support orchestras through a critical recovery period.
In keeping with the Stronger Togethertheme, we have prioritized the idea of building a philanthropic community. No matter the size of your gift, you are essential as we strive to reach our 500-donor goal.
Last year, we saw our orchestral community come together during our Stronger Together: League Giving Dayscampaign. A total of 348 individuals—first-time donors and long-time supporters—came together and affirmed the importance of the League's work on behalf of their orchestras with gifts of all sizes.
And there has never been a better time to make a gift to the League… all Stronger Together: League Giving Days 2021 gifts will be matched dollar for dollar up to $100,000 thanks to the generous support of the Julian Family Foundation.
Orchestras are resilient and will continue to thrive in the post-pandemic future. Now is the moment to invest in helping them get there.
Make A Gift Today
Become a member
Thank you for your interest in the League of American Orchestras! We are dedicated to advancing the orchestral experience for all.
Join Now