Spotlight: Janet Chen
May 2021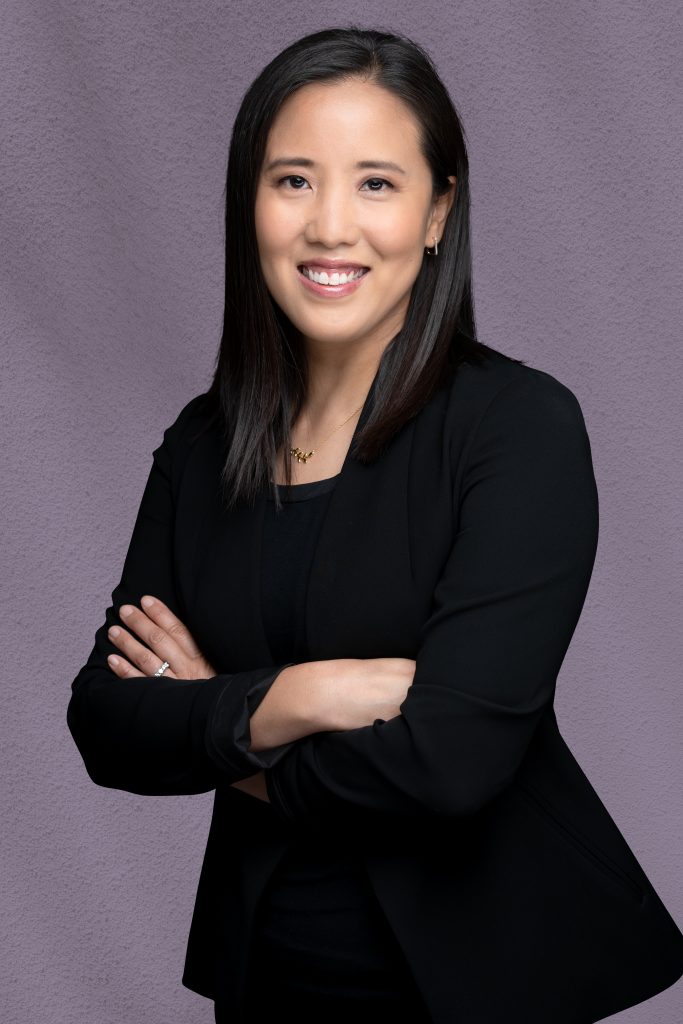 In 2019, Janet Chen was named the first ever Chief Executive Officer of ProMusica, a chamber orchestra in Columbus, Ohio and a League member. We asked her a few questions about her career, which has seen her as a performing musician, arts administrator, and music educator.
What drew you to music, and to the flute specifically?
I am very blessed that music has been part of my life ever since I was born. My mother is a pianist and growing up, music was fully immersed in everyday life! Students came to our house for lessons every weekend; and whether I liked it or not at the time, my mom frequently took me to concerts, recitals, and operas. Naturally, I started by playing the piano but having your mom as your teacher has its moments! In an innocent act of rebellion, I switched to the flute, and that became my musical voice for the years following–studying, playing, and performing until making the transition into arts administration. I am grateful for having had access to music from a very young age, and I think it's why I'm so passionate about the work we're doing to bring musical experiences to audiences and our communities.
How did you transition into arts administration?
I loved many moments as a professional flutist, and had wonderful opportunities to work with amazing conductors, musicians, and artists. I was a member of the Taipei Symphony Orchestra, living in Taiwan where I grew up, but after several years I had an itch to try for a career back in the United States—perhaps akin to the idea of pursuing the American dream. So, I left, and lived in Cleveland while freelancing, auditioning, and teaching. During that time, I developed a curiosity about arts administration. Having had no background, exposure, or experience in that area, I wasn't even sure what that meant, but I had always remembered being interested in how orchestras worked…behind the scenes. I began reading and searching for internships, fellowships, and any entry-level positions with orchestras across the country. Long story short, there was an opening at ProMusica to work in education and operations–I put the flute down, took a leap of faith and moved to Columbus. Being in a smaller-sized arts organization allowed me the opportunities to better understand the many different areas of arts administration, and I learned a lot! After a few years, I transitioned into my current role with the organization, and I am still learning something new and different all the time. I think we've probably all felt that during this pandemic year. My role never feels stagnant. I am grateful that I still get to have a career in this industry, just transferring roles from being onstage to working off stage.
Do you have any advice for musicians considering the transition into arts administration themselves?
First and foremost—pursue your passions. If you believe in a cause and in the work, then that is a powerful gift you will bring to any organization. Secondly, musicians have all the reflexes that will come naturally in a transition to arts administration, because you innately know what it takes to deliver a program or performance—putting the music first. Musicians also have the ability of being able to adapt to all different kinds of circumstances. These basic tools that musicians have been practicing for years are easily transferable to working in arts administration. Knowing that, and if you're passionate about the work, reach out to colleagues, orchestras, local/community arts agencies, and your network of resources to seek opportunities that speak to you.
In your years at ProMusica, do you have any favorite projects that you are most proud to have been a part of?
It will be hard to pick! I love our recent initiatives "Naked Classics" and "ProMusica Sessions"—both explore classical and orchestral music in a fresh, approachable format. But there are two specific categories that stand out:
Commissions and championing composers of today has been part of ProMusica's DNA since our inception. To-date we have commissioned 68 new works over our 42-year history, with our 69th premiering in the 2021-22 season. What's exciting is that we try to keep commissioning ideas fresh, innovative, and diverse! For example, our ongoing "Composer/Performer" project showcases composers of today not only as creators of work, but as soloists in their own right. We recently commissioned pianists/composers Gabriela Montero and Conrad Tao to write AND premiere their own works with the orchestra, giving audiences a fresh perspective in experiencing new repertoire. In 2019, in collaboration with Opera Columbus, we commissioned and premiered a new chamber opera titled "The Flood"–libretto written by Stephen Wadsworth and music composed by Korine Fujiwara. The story was about the Great Flood of 1913, which devastated much of Columbus and the surrounding region. We involved numerous community partners as this was about a historical event in Columbus–yet the theme of loss, tragedy, hope and light was relatable to other communities in the country. The project took five years to come together, but it was a wonderful marriage of two genres (chamber orchestra and opera), uniting Columbus through art and music.
Off the stage, we are in our community—in schools, retirement centers, library branches, amongst others—providing access for individuals from all walks of life. In particular, I am very proud of our "Play Us Forward" (PUF) program. PUF affords students access to music education by gifting string instruments and first-rate music instruction to 110 middle schoolers annually, 95% of whom are considered economically underserved, coming from the highest poverty and crime rate neighborhoods. Classes are integrated during the school day, and offered at no cost to the students, families, or schools. Since its inception in 2015, these youth are given impactful opportunities, and this year we layered in social justice and race discussions into the curriculum; for example, reviewing and discussing a video interview with President Obama and dancer Misty Copeland. These efforts give me great hope and inspiration for the future of our industry.
How does the League support your work?
The League has been invaluable conduit–transferring knowledge and advocacy efforts on a national level; and forging connection between orchestras across the country. I also cannot imagine how American orchestras could have survived without the League during this pandemic. From hosting webinars on PPP, SVOG, CARES Act funds, providing data and results collected related to re-openings and health guidelines, to creating a collective space and encouraging conversations in which resources, information, questions, and support can be shared—all I can say is, thank you!
How has the pandemic changed your work?
Since the pandemic interrupted our lives and our industry, we have been working along a path that has never been paved! That has been one of the most challenging aspects of this time. For ProMusica, when live music was forced into silence, we made it our mission to try and find a way for music to be played and heard. There were many moments of not knowing how to move forward. Now, like many other orchestras, it is clear that while trying to survive, creativity came alive. We have flexed every creative muscle, producing "SummerFEST" last August—two weeks of live music at outdoor locations including a drive-in; finding a new and non-traditional performing venue with a flexible floor plan and sophisticated UVC-PHI HVAC system so we could do in-person concerts with limited capacity in the fall and now again in the spring; producing digital concerts during the winter months; and moving all education programs virtually. We gave ourselves permission to take risks and lean into each new adventure. We've remained resilient, imaginative, and most importantly, relevant to our audiences and community. As we soon close our 2020-21 season, we will have done more programs than in a pre-pandemic time. The trust and camaraderie between our musicians, staff, and board has only strengthened, and together we have learned a lot along the way.
Become a member
Thank you for your interest in the League of American Orchestras! We are dedicated to advancing the orchestral experience for all.
Join Now