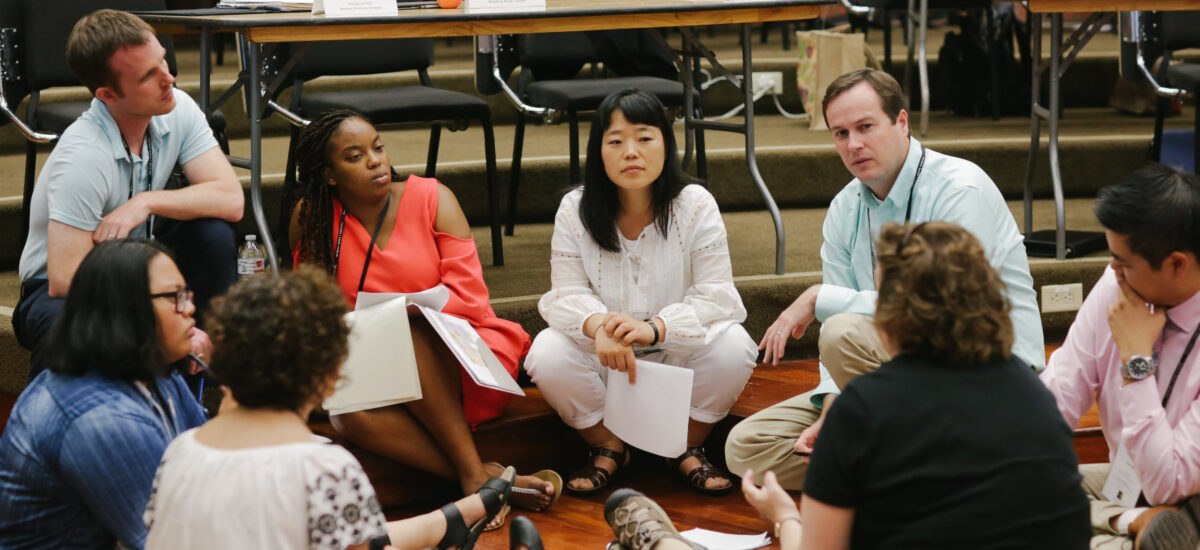 Essentials of Orchestra Management
In This Section
"The gold standard of orchestra management training"
2023 Essentials cohort and faculty. Photo Credit: Juan Pantino
---
An international cohort of thirty-six orchestra and arts professionals participated in 2023 Essentials of Orchestra Management in New York, presented in collaboration with Juilliard Extension on the Lincoln Center Campus, July 26 – August 4, 2023.
Learn more about the participants in the most recent press release.
---
Essentials of Orchestra Management provides a unique, 10-day immersive experience to prepare current and aspiring orchestra professionals with the tools and mindsets they need to grow as leaders and progress in their careers. Since its inception in 2000, more than 550 individuals have participated in Essentials, including many who now hold key leadership positions in orchestras. This residential program on the campus of The Juilliard School in New York City provides an in-depth overview of orchestra management, builds career networks, and offers participants an interactive opportunity to build necessary skills and mindsets to become innovative and successful leaders in the arts.
The seminar is taught and directed by a core faculty comprised of prominent leaders of the orchestra field:
Seminar Director Scott Faulkner, Principal Bass, Reno Philharmonic Orchestra; Former Executive Director, Reno Chamber Orchestra
Jennifer Barlament, Executive Director, Atlanta Symphony Orchestra
Alex Laing, Principal Clarinet, The Phoenix Symphony
The League's President and CEO, Simon Woods, will also play a role leading sessions and mentoring.
"My creative/professional high point of 2016 was getting to learn from some of the most brilliant orchestra executives."

Shiva Shafii, former Director of Communications, Seattle Symphony
"It was fantastic to get to know a group of people with such a different array of backgrounds and levels of experience. Everyone is so passionate."

Ignacio Barrón Viela, Executive Director, Billings Symphony Orchestra & Chorale
Who is eligible to apply?
Early and mid-career professionals, musicians, career changers, and students are eligible to apply, as well as experienced administrators who wish to expand and deepen their knowledge base in all aspects of an orchestral organization. The League especially invites applicants from backgrounds that have been historically underrepresented in the orchestral field.
In a highly competitive application process, up to 36 participants will be selected based on demonstrated experience, potential, commitment to serving American orchestras, and motivation and goals for participating in this professional development seminar. Program participants will receive a one-year membership to the League of American Orchestras.
All applicants, whether accepted to Essentials or not, will receive the super early bird discounted registration rate to the League's National Conference in Pittsburgh, June 14-16, 2023.
More Essentials Information
---
Essentials of Orchestra Management is made possible by grants from Trish & Rick Bryan, 25th Century Foundation, the National Endowment for the Arts, the New York City Department of Cultural Affairs in partnership with the City Council, and New York State Council on the Arts with the support of the Office of the Governor and the New York State Legislature.
---
Banner: 2018 Essentials of Orchestra Management Seminar. Photo: Abigail R. Collins Photography
Become a member
Thank you for your interest in the League of American Orchestras! We are dedicated to advancing the orchestral experience for all.
Join Now