Of and For the Community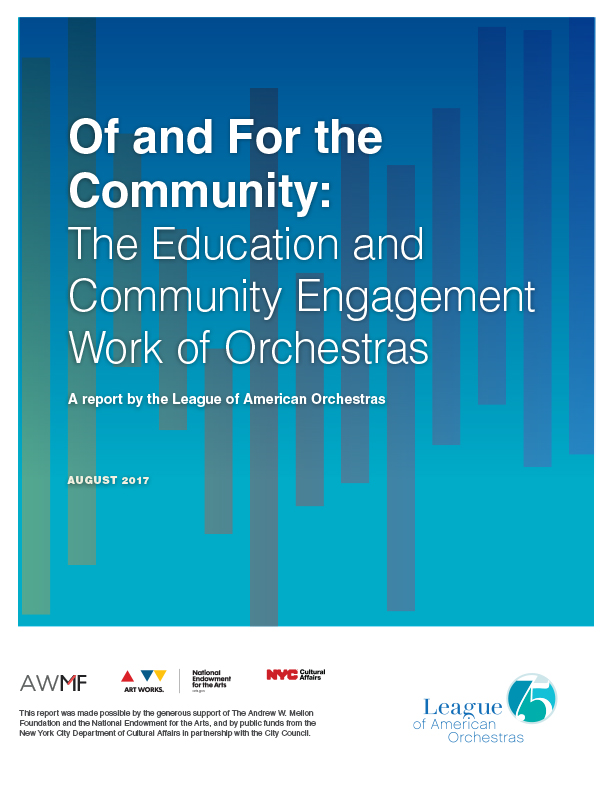 Orchestras' ambitions to engage with communities, in ways that create new and distinctive opportunities for creative expression and connection, are growing.
In this time of widespread societal change, the education and engagement work undertaken by orchestras deserves dedicated attention, and so the League of American Orchestras is pleased to share a new report. Of and For the Community is the League's first detailed report on the education and community engagement (EdCE) work of orchestras. Covering the period of 2009 to 2014, the report tells a story of growth on important measures:
The number of EdCE participants engaged
The racial/ethnic diversity of EdCE participants engaged
The number of EdCE concerts produced
The range of EdCE activity types undertaken
The extent of school and community partnerships developed
The number of staff hours dedicated to EdCE activity
Budget available for EdCE work, relative to the orchestra's overall budget
Click below to quickly download the report; minimal registration information is requested:
---
This report was made possible by the generous support of The Andrew W. Mellon Foundation and the National Endowment for the Arts, and by public funds from the New York City Department of Cultural Affairs in partnership with the City Council.
Related
Learn

|

Equity, Diversity & Inclusion
Become a member
Thank you for your interest in the League of American Orchestras! We are dedicated to advancing the orchestral experience for all.
Join Now