Statement on Racial Discrimination – August 2020

This is important insight into what orchestras, and the League, need to consider now and in the future in this time of racial reckoning.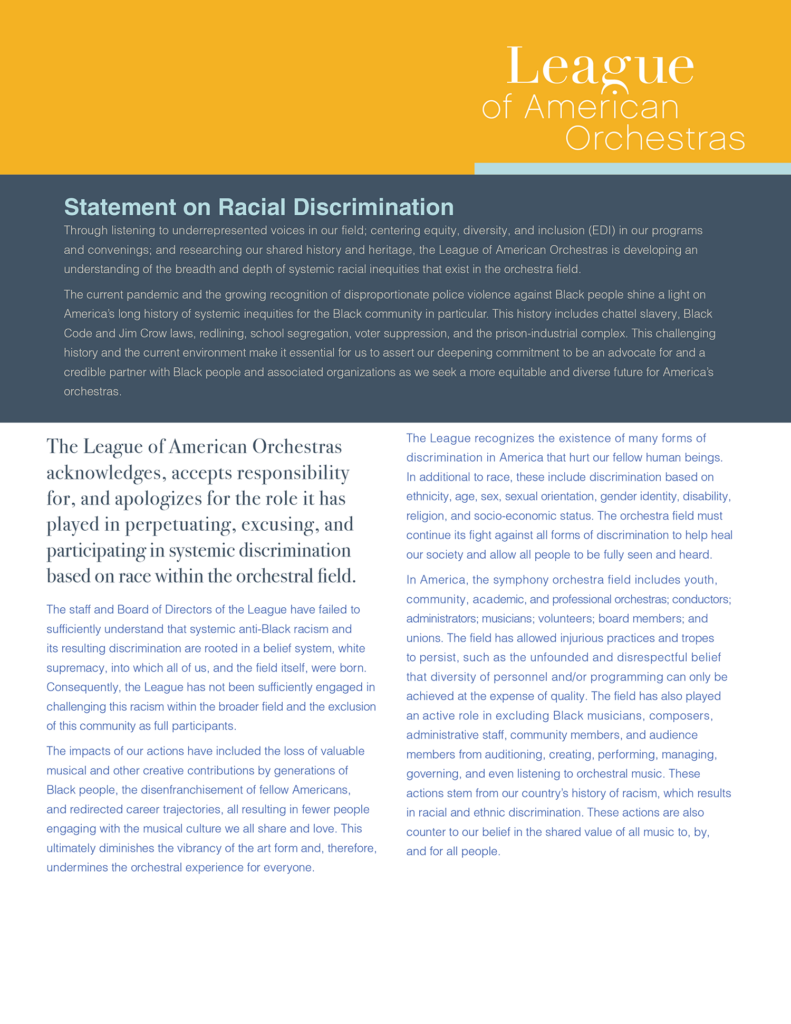 We are pleased to share an important statement, linked above, expressing how the League of American Orchestras is coming to grips with its history of racism, reflecting on the impact of racism within the League and the wider community of orchestras, and committing to sustained action. Drafting began in December 2019 by our Board Equity, Diversity, and Inclusion (EDI) Committee; following many conversations and iterations, the full Board adopted it on June 25, 2020. Our incoming CEO, Simon Woods (beginning September 8, 2020), fully affirms everything in these documents and stands ready to continue this important work.
As a complement to this statement, we commissioned the recent article in Symphony magazine chronicling the history of persistent discrimination across centuries, "Anti-Black Discrimination in American Orchestras," by Dr. Aaron Flagg. That article is linked above.
To further support your engagement with and understanding of the statement and article, we offer a link to a third document: FAQs and Guide to Additional Resources. These materials build on our learning, programs, and convenings (PDF) over the last several years and on our June 1 Statement on Racial Injustice.
Finally, we'd like to point out some of the resources mentioned in the FAQ above, which we think may be especially helpful:
---
Banner: Boston Philharmonic Orchestra, The Boston Philharmonic Orchestra, conducted by Benjamin Zander, photographed in concert November 2019. Photo: Perfect Bokeh Photography, Paul Marotta
Become a member
Thank you for your interest in the League of American Orchestras! We are dedicated to advancing the orchestral experience for all.
Join Now