Andrea Reinkemeyer
2017 Virginia B. Toulmin Foundation Orchestral Commission Recipient
---
Andrea Reinkemeyer's League commission, Water Sings Fire, was premiered by the Louisiana Philharmonic Orchestra and music director Carlos Miguel Prieto on January 10, 2019, with additional performances on January 11 and 12.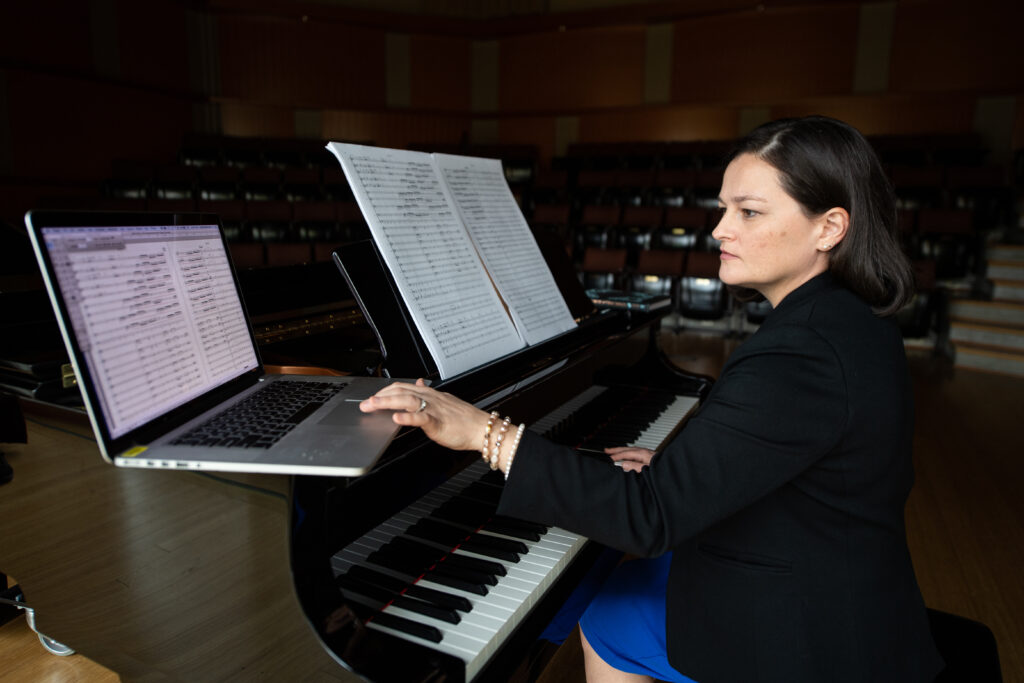 The music of American composer Andrea Reinkemeyer, DMA (b. 1976, she/her) "offers a luminous glimpse of the next world" (Fanfare Magazine) as it "explores a reverent sound world that hovers just above the brink of silence" (Second Inversion), using "spare, melancholy passages to traverse a complex emotional landscape" (Eugene Weekly) "from reverence and supplication to mournfulness and despair" (textura), and praised as, "clever, funky, jazzy and virtuosic" (Schenectady Daily Gazette), "magical" (Fanfare Magazine), "enchanting" (International Choral Bulletin), and "hauntingly melodic and fun, dancing and almost running its way forward… whimsical" (Fanfare). Her current musical explorations focus on intersectional feminist narratives, natural phenomena, home, and grief.
Reinkemeyer's music is distributed by Murphy Press and the ADJ•ective Composers' Collective and featured on recordings by: Idit Shner, Society of Composers Inc., In Mulieribus, A/B Duo, and Post-Haste Reed Duo.
Recent commissions include: Louisiana Philharmonic Orchestra and League of American Orchestras with support from the Virginia B. Toulmin Foundation, Albany (NY) Symphony Orchestra, Rhymes with Opera, H. Robert Reynolds and The Detroit Chamber Winds and Strings, Mid America Freedom Band, Fear No Music, Lacroute Arts Series at Linfield University, Rodney Dorsey for the University of Oregon Wind Ensemble and University Singers, a thirteen-school wind band consortium commission led by Brant Stai and the Sherwood High School Wind Ensemble, Miller Asbill and the Texas Tech University Concert Band, The Wild Swan Theater, and many other performers and visual artists.
Upcoming projects include a new work for flutist Abigail Sperling with support of the Oregon Arts Commission. Featured performances include the: New Music Gathering, American Composers Orchestra Underwood New Music Readings, North-South Consonance Chamber Orchestra, Great Noise Ensemble, Thailand International Composition Festival, and conferences of the International Alliance of Women in Music (IAWM), Iowa Music Teachers Association, Society of Electro-Acoustic Music in the United States (SEAMUS) and SCI.
Dr. Reinkemeyer enjoys exploring music with students of all ages. In 2014, she joined the faculty of Linfield University in McMinnville, Oregon where she serves as Associate Professor of Music Composition and Theory. She holds degrees in music composition from the University of Michigan (MM and DMA) and University of Oregon (BM). She was awarded the Julie Olds and Thomas Hellie Creative Achievement Award for Linfield Faculty in 2019 and named a 2020 finalist for the National Band Association William D. Revelli Composition Contest for Smoulder. Born and raised in Oregon, Andrea has also lived in Ann Arbor, Michigan and Bangkok, Thailand.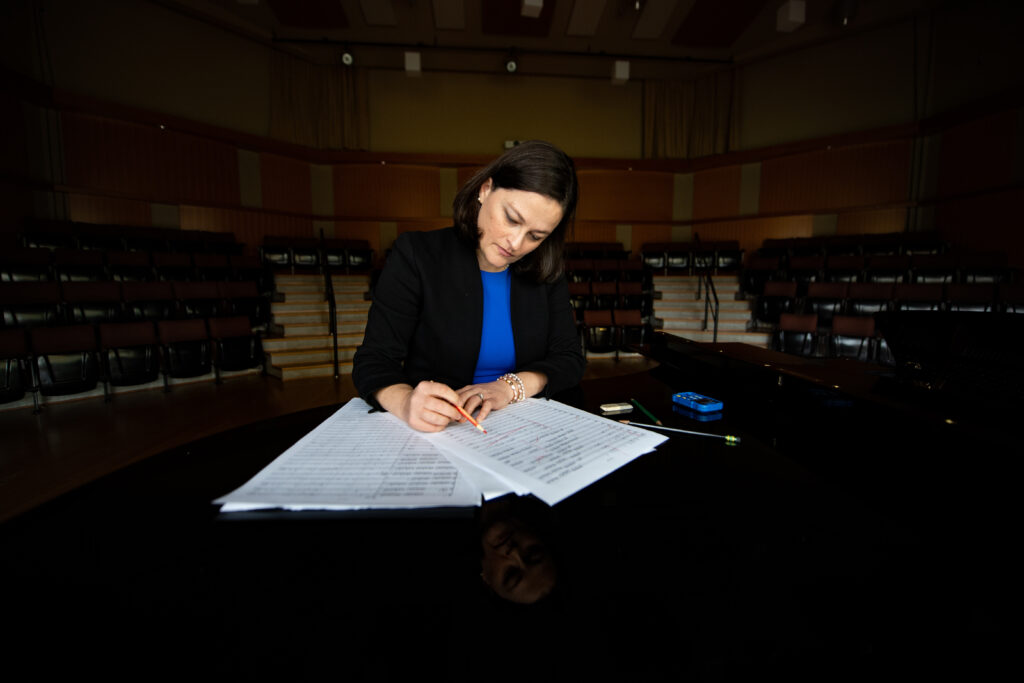 Andrea Reinkemeyer has won national awards and is one of the state's most promising new music voices. "Saturation," her striking contribution to Shner's new album…blends the sax's squawky side with spare, melancholy passages to traverse a complex emotional landscape.

Brett Campbell, review of Idit Schner's Minerva
More from Andrea
---
Profile Photo Credit: Frank Miller
Related Links & Assets
Become a member
Thank you for your interest in the League of American Orchestras! We are dedicated to advancing the orchestral experience for all.
Join Now