Orchestra Facts: 2006-2014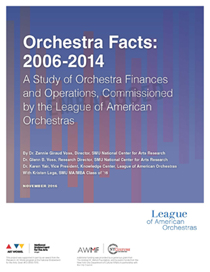 For a quick guide to frequently-asked questions about America's orchestras, download our Orchestras at a Glance (PDF).
Orchestra Facts: 2006-2014 is the first in what will become a regularly published and publicly available series of longitudinal reports commissioned by the League of American Orchestras. Drawing on multiple data sources, Orchestra Facts looks back over a nine-year period from 2006 to 2014 to tell the story of orchestra finances and operations through the recession years and beyond. While each orchestra has its own circumstances, the aggregate data in this report provides an essential foundation for analysis, understanding, debate, and action for the field at large.
The data analysis was conducted by Dr. Zannie Giraud Voss, a highly regarded academic researcher at Southern Methodist University, and colleagues. Dr. Voss is also the author of Theatre Facts and heads the National Center for Arts Research. Dr. Karen Yair, the VP of the League's Knowledge Center, is a co-author of the written report.
The League is grateful to the many orchestras that have contributed to the League's Orchestra Statistical Report, which provides one of the data sets for this report. We also thank the committees of member CEO's, CFO's, PR directors, League musician board members, and others (p. 28) who advised on this report from its inception.
Overall, the report tells the story of orchestras' resilience and scope of activity across the country, indicating a clear recovery from the great recession and demonstrating the depth and breadth of community engagement. For a good overview of the report, we recommend the Summary of Key Findings (pp. 4-5) and the Conclusions (page 20).
You may also wish to read the press release (PDF) that the League disseminated to national media outlets. For more background, see this Question and Answer page (PDF), which the League created based on questions we received during the development of this report.
---
This project was supported in part by an award from the Research: Art Works program at the National Endowment for the Arts: Grant #13-3800-7015. Additional funding was provided by a generous grant from the Mellon Foundation, and by public funds from the New York City Department of Cultural Affairs in partnership with the City Council.
Article Topics:
Related Links & Assets
Become a member
Thank you for your interest in the League of American Orchestras! We are dedicated to advancing the orchestral experience for all.
Join Now