Orchestra Boardroom: November 2018
Trends
Reflecting Our Communities Through Music
How can the orchestral experience help address and reflect pressing community concerns through artistic programming? Watch this YouTube video of a panel at the 2018 League Conference, in which panelists describe how their orchestras have approached translating civic concerns into vibrant, core series programming. League of American Orchestras President and CEO Jesse Rosen moderates; participants include Lorenzo Candelaria, dean, School of the Arts, Purchase College (formerly associate provost, University of Texas at El Paso); Mei-Ann Chen, music director, Chicago Sinfoneitta; and Isaac Thompson, vice president, artistic planning, New York Philharmonic. It's a thoughtful discussion about how orchestras can listen and respond to our evolving communities.
Related resource:
For a quick read on this trend, check out the "Symphonic Statements" article (PDF) from the Summer 2018 Issue of Symphony magazine. Writer David Patrick Stearns reports how orchestras and composers are responding to current events with new scores, and how some older works are taking on new resonance.
---
Governance
Know Where to Go for Reliable Information on Board Governance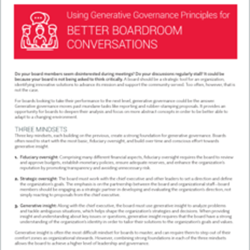 Your first stop is the League's own Noteboom Governance Center, an online repository with dozens of orchestra-specific resources. Your second stop should be BoardSource, a national nonprofit dedicated to promoting the effective governance of nonprofit organizations. We highly recommend their free bi-weekly newsletter, which always includes links to free downloads, templates, and resources, such as Boardroom Conversation Starters, a quick guide to encouraging the board to "think deeper about the issues…using generative governance principles." It includes an explanation of generative governance and tips for restructuring board meetings and for overcoming common barriers to critical thinking. There are hundreds of other resources available—you'll be glad you subscribed.
---
Policy/Charitable Giving
IRA Charitable Rollovers Remain a Good Option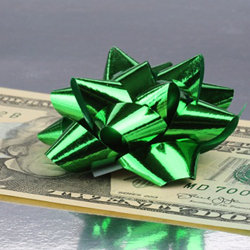 The League's Washington, D.C. staff stays on top of many policy issues affecting orchestras, including the effect of comprehensive tax reform on charitable giving. They recently pointed out that though some donors' giving habits will be newly influenced by changes to the tax laws, IRA Charitable Rollovers remain a powerful incentive, even for the growing ranks of taxpayers—maybe you?—that will no longer itemize their tax returns.
Do your fellow board members know about the benefits of the IRA Charitable Rollover? Ask your executive director if she or he is reminding all donors of this terrific option and encouraging donors to talk to their tax advisors about it.
---
ICYMI
Why Don't We Talk About Music?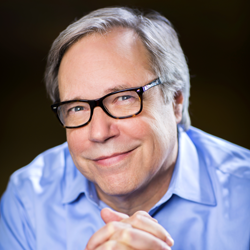 Jesse Rosen, president and CEO, League of American Orchestras, asked this question in a column in the Summer 2018 Issue of Symphony magazine (PDF). "Artistic excellence and innovative programming have never been higher at American orchestras," he writes. "But as we go through a period of great cultural and social change, the time is ripe for big conversations about the artistic work of orchestras—with musicians leading the way."
---
Resource
The Knowledge Center: A Help Desk for Orchestras
"Can I get information on music director and executive director salaries for orchestras our size?"
"We're reviewing our board structure. Can you provide any sample committee charters?"
"Do you have a sample evaluation form for an executive director?"
"I'd like to compare our financial information against two similarly sized orchestras that have consistently posted surpluses, in order to analyze revenue mix and expenses…please help."
These and many other questions are answered daily by the staff of the League of American Orchestras Knowledge Center. Call 646 822 4010 for any information or advice you may need about the orchestra field. Based on the League's industry-wide scope, the Knowledge Center has collected an abundance of tools—everything from job description templates to research on audience motivation. But what really sets the Knowledge Center apart is the one-on-one advice and expertise we offer to all of our members. Our staff are available to guide you through any questions you may have for your orchestra.
Become a member
Thank you for your interest in the League of American Orchestras! We are dedicated to advancing the orchestral experience for all.
Join Now