Global Negotiations Support Musical Instruments and Pernambuco Conservation
November 28, 2022
Improvements for the movement of musical instruments across borders and new support for the conservation of Pernambuco wood won approval at the conclusion of two weeks of global negotiations in Panama City, Panama. From November 14 to 25, 2022, the 184 worldwide parties to the Convention on International Trade in Endangered Species of Wild Fauna and Flora (CITES) participated in the 19th Conference of the Parties (CoP19), where international governments adopted policies that balance trade and conservation needs for threatened plant and animal species.
The League of American Orchestras partnered with the International Pernambuco Conservation Initiative, French Musical Instrument Organization (CSFI), National Association of Music Merchants (NAMM), the American Federation of Musicians of the United States and Canada, and dozens of international music stakeholders in advance of the meeting to represent the music sector in policy conversations that determine future rules for travel and trade with musical instruments made with material subject to endangered species protections.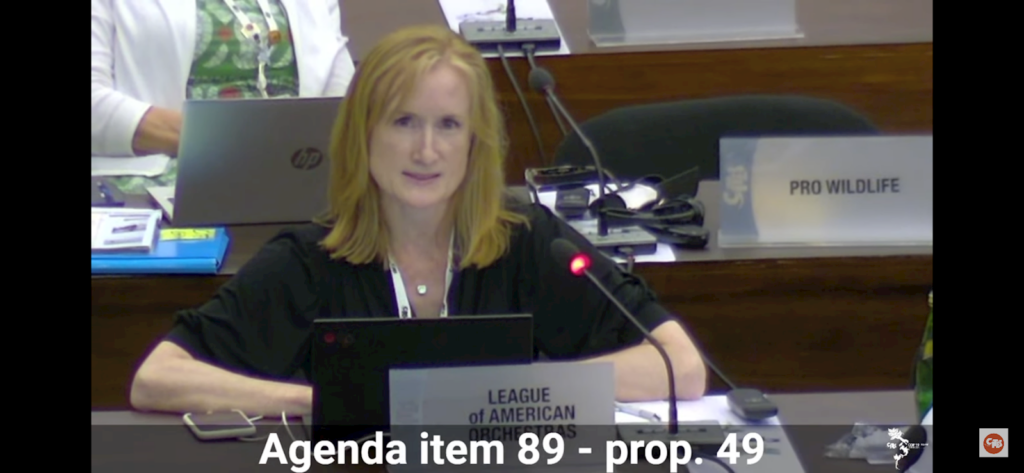 The United States, represented at the negotiations by the U.S. Department of the Interior and the U.S. Fish and Wildlife Service, successfully led the adoption of two proposals to streamline the permit process required for noncommercial movement of musical instruments (PDF) in use by musicians that travel internationally with instruments that have been made with species now under protection. The League and global partners welcomed U.S. leadership on these next steps toward permit improvements, which were adopted by consensus and initiate consideration of new simplified procedures and electronic permitting strategies that could be adopted at the next Conference of the Parties and would measurably improve opportunities to travel and tour with musical instruments.
At a special briefing on November 14, the first day of negotiations, United States head of delegation Matthew J. Strickler, U.S. Department of the Interior Deputy Assistant Secretary for Fish and Wildlife and Parks, outlined the proposals, and following their approval on November 25 said, "Music is an essential part of cultures around the globe, and sharing music internationally helps bring us all closer together. Many musical instruments are made with components from CITES-listed species but musicians traveling between countries to perform with these instruments does not pose a conservation risk. At CoP19, the United States was pleased to include consideration of additional efficiencies for the non-commercial movement of musical instruments, including through simplifying electronic permitting."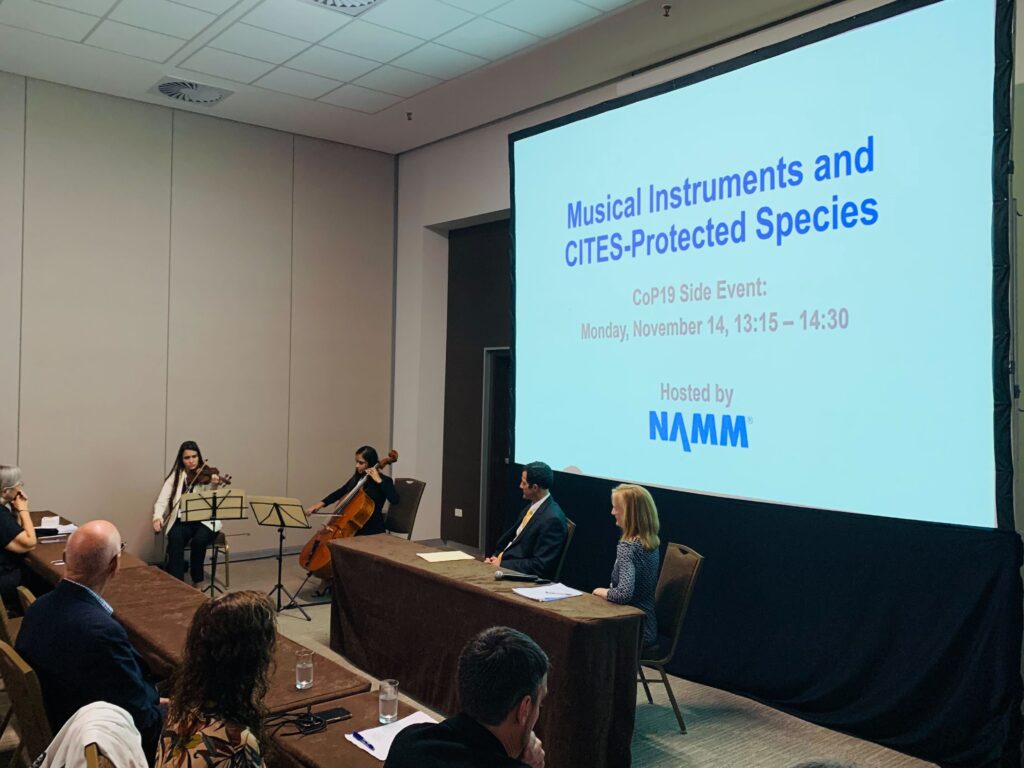 In negotiations led by Brazil, the European Union, United Kingdom, Australia, Japan, the U.S., and other participants in a small working group, a path forward was achieved for stringed instrument bows made of Pernambuco wood, setting in motion new conservation actions and controls for exports from Brazil–where the species is grown–without introducing new permit requirements for global travel and trade with finished bows that have already moved outside of Brazil. The initial proposal submitted by Brazil would have listed Pernambuco (paubrasilia echinata) at the highest level of CITES protection, Appendix I. Because Brazilian Pernambuco wood has long been used to produce most bows played by professional string musicians, the original proposal would have required permits for travel with all such bows and severely restricted future international trade. National and international organizations representing the bow-making community, conservation leaders, and musicians sought a policy solution that supports the sustainability of the Pernambuco species while also preventing unnecessary burdens on travel and international musical commerce.
The new Pernambuco policy (PDF), approved on November 25 and going into effect February 23, 2023, will keep the species in its current Appendix II listing, with revised rules that place CITES permit requirements on finished bows (and all Pernambuco wood) the first time they leave Brazil (exports). Finished bows that are "re-exported" globally (meaning the bow is crossing a border after the Pernambuco wood has previously left Brazil in some form as an export) remain exempt from new CITES permit requirements. The proposal is also accompanied by a new set of action items for continued discussion and voluntary enactment in the next three years before the next CITES meeting. These recommendations include efforts to: create systems for documenting the legal origins of existing and new bows; support capacity-building for enforcement and conservation efforts within Brazil and among importing countries; and, identify plantation-grown Pernambuco that could be certified for long-term sustainable use.
The League partnered with the International Pernambuco Conservation Initiative (IPCI) and professional bow-making associations in direct negotiations throughout the CITES working group meetings. Talks centered on opportunities to support the species, which grows only in Brazil's Atlantic Rainforest. "More than ever, it is urgently important that the music world joins with Brazil in support of conservation of Pernambuco," said John Bennett, President of IPCI-USA.
"Following these crucial discussions in Panama about the status of Pernambuco, musicians have an immediate opportunity to better know the origins of the materials in bows made over the course of more than 200 years, and to take direct action to support the sustainability of the species in Brazil," said Heather Noonan, League Vice President for Advocacy. "We look forward to partnering with our colleagues and governmental conservation leaders on all next steps initiated at CoP19."
The League will continue to keep orchestras up to date through the League's tips for traveling with musical instruments about ongoing opportunities to support conservation efforts by complying with CITES policies. Background on the events leading up to CoP19 is included in our CITES policy action overview.
Become a member
Thank you for your interest in the League of American Orchestras! We are dedicated to advancing the orchestral experience for all.
Join Now