Visa and Tax How-To
Always Obtain a Proper Visa
It is unlawful to hire any foreign individual who does not hold the proper work visa. The financial damage your orchestra may incur as a result of a cancelled or substituted performance will never outweigh the penalties for unlawfully hiring a foreign guest artist.
Artists From Abroad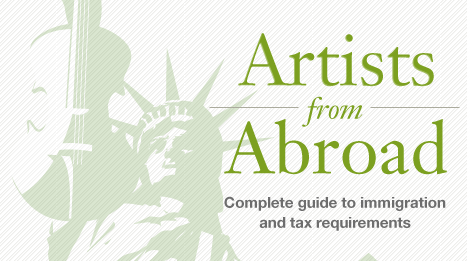 Co-hosted by the League and the Association of Performing Arts Presenters, ArtistsfromAbroad.org features complete and up-to-date guidance on the visa process and tax treatment for foreign guest artists. Download a free webinar that provides top tips from the site's visa and tax authors and subscribe to the News Flash page to stay up to date on the most recent updates and tips.
Contact the League for Assistance
Improve Visa Policy – Track Your Petition!
The content of the League's Advocacy & Government webpages is for general educational purposes only and is not intended to provide legal advice on any subject matter. This website should not be used as a substitute for obtaining legal advice from an attorney licensed or authorized to practice in your jurisdiction.
Article Topics:
Related Links & Assets
Become a member
Thank you for your interest in the League of American Orchestras! We are dedicated to advancing the orchestral experience for all.
Join Now