Melody Eötvös
2014 Virginia B. Toulmin Foundation Orchestral Commission Recipient
---
Melody Eötvös League commission, Red Dirt | Silver Rain, received its world premiere at Carnegie Hall in October 2015, performed by American Composers Orchestra and ACO Music Director and Conductor George Manahan.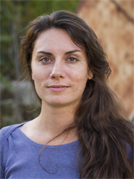 Melody Eötvös (1984) is a Bloomington IN-based Australian composer whose work draws on both multi-media and traditional instrumental contexts.
She has studied with a variety of composers across the globe, including Gerardo Dirié (Australia), Simon Bainbridge (UK), and, most recently Claude Baker & David Dzubay (USA). She has also studied electronic music with Jeffrey Hass, John Gibson, and Alicyn Warren. Melody has had her music performed by ensembles/orchestras such as the London Sinfonietta, BBC Singers, Tasmanian Symphony Orchestra, and the Australian String Quartet, and has participated in several electronic music festivals including SEAMUS 2011 (US), ACMC 2012 (Australia), and ICMC 2011 (New Zealand). Current projects include a Virginia B. Toulmin Foundation Orchestral Commission administered by the League of American Orchestras, the EarShot Foundation (world premiere: Carnegie Hall October 23rd 2015), guest composer for the Bendigo International Festival of Exploratory Music 2015, a commissioned composer for the Synergy 40×40 project (Sydney, AUS), was a composer fellow at the Aspen Music Festival & School 2015, and will be a Composer resident for the Copland House Residency in May 2016.
Melody holds a Doctor of Music (2014) from Indiana University Jacobs School of Music USA, and a Master of Music (2008) from the Royal Academy of Music, London UK.
More from Melody
---
Photo courtesy of Melody Eötvös
Related Links & Assets
Become a member
Thank you for your interest in the League of American Orchestras! We are dedicated to advancing the orchestral experience for all.
Join Now