Leanna Primiani
2020 Virginia B. Toulmin Foundation Orchestral Commission Recipient
---
Leanna Primiani's League commission, Neither man nor money validate my worth, was premiered by ROCO (Houston, TX) and conductor Sarah Hicks on February 26, 2022.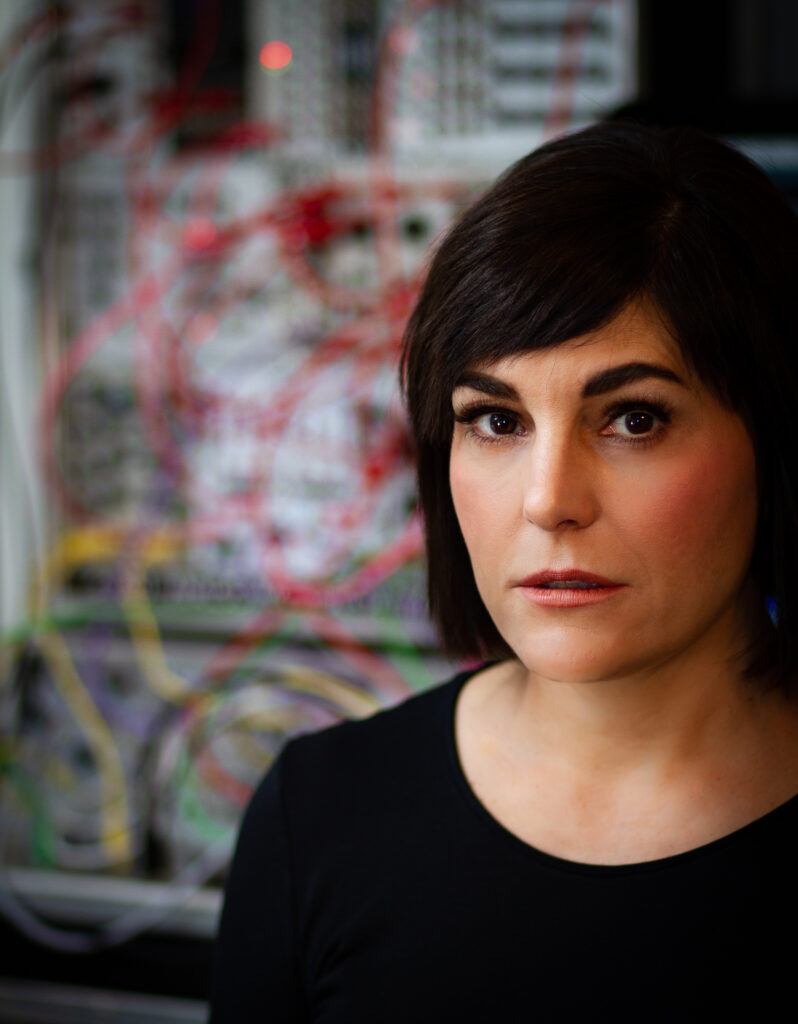 Leanna Primiani is an award-winning composer who aims to bring together the collective experiences of the many for greater understanding. Her music asks listeners to consider deep issues and ideas related to the female experience, as she believes that connection and thoughtful participation can catalyze powerful change. Leanna writes music that changes how listeners see themselves and the world around them. Using electronics as well as orchestral instrumentation, she explores the limits of musical form, sound, and time.
Starting out as a conductor, with credits including the National Symphony and LA Opera, she never imagined that composition would take over her life. Leanna channeled her kinesthetic experience of music-making as a conductor into her writing, with her music being championed by Bang On A Can, the Nashville Symphony, the Cabrillo Music Festival, and the Imani Chamber Music Festival in NYC.
Taking her story-telling further, she composes for film and television. Credits include the WIF/Fox Searchlight production of Signal, the feature documentary Altitude Not Attitude, as well as the remake of the cult classic The Bad Seed, directed by and starring Rob Lowe. Variety's Jon Burlingame calls the music "one of the most remarkable… scores of the past season." Her training as a classical composer, her fluency with large-scale orchestral scores combined with her talents in electronic sound design gives Leanna an advantage few other composers can boast when scoring film.
Recent premieres and performances include Gaudete by the Rochester Philharmonic in December 2021, Glass Ceiling by the St. Olaf Band, OMNI for Reed Trio by Trio 212 New York City, Anxiety for Violin and Electronics in NYC all in May 2021, and Anxiety for Cello and Electronics premiered by Nick Photinos at Bang On A Can at MASS MoCA in July 2021. Most recently, Leanna was a featured composer at the 2021 Taiwan International Flute Festival and a composer-in-residence at The Millay Colony for the
Arts in Upstate NY.
Performances of her catalog include the Rochester Philharmonic, Nashville Symphony, Cabrillo Festival, Wheeling Symphony, Seattle Collaborative Orchestra, American Composers Orchestra, Aspen Music Festival, United Nations 50 for Freedom campaign, International Clarinet Association (Belgium and the USA), National Flute Association, Imani Wind Festival (NYC), June In Buffalo, Left Coast Chamber Ensemble, Harvard Women's Choral Festival, Atlanta Chamber Players, Vox Musica, Ensemble Mo (FR), and the Commandaria Orchestra Chamber Music Series (CY) and the Hear/Now Festival in LA.
A native Californian, Leanna currently splits her time between Santa Monica and New York. She earned a doctorate in composition from USC and has studied with such noted composers and conductors as Leonard Slatkin, Peter Eotvos, Christopher Rouse, Steven Stucky, Morten Lauridsen, and Howard Shore. She is a member of BMI, Recording Arts Academy, Television Academy, New York Women Composers, The Alliance of Women Film Composers, and The Society of Composers and Lyricists.
Leanna Primiani's brilliant use of the instruments of the symphony orchestra, skillfully and imaginatively blended with electronic sounds, is one of many effective touches…Along with her gift for evocative atmospherics, the composer creates thrilling moments of visceral rhythmic drive and energy.

Dave Beck, Classical KING FM 98.1 (Seattle), on 1001
More from Leanna
---
Photos courtesy of Leanna Primiani
Related Links & Assets
Become a member
Thank you for your interest in the League of American Orchestras! We are dedicated to advancing the orchestral experience for all.
Join Now