Julia Adolphe
2014 Virginia B. Toulmin Foundation Orchestral Commission Recipient
Julia Adolphe's League commission, Unearth, Release (Concerto for Viola and Orchestra), received its New York premiere November 17-19, 2016 by the New York Philharmonic, conductor Jaap van Zweden, and Principal Viola Cynthia Phelps as soloist.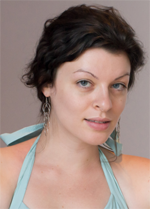 Twenty-seven year old composer Julia Adolphe's music has already been described as "alive with invention" (Alex Ross, The New Yorker), "colorful, mercurial, deftly orchestrated" (Anthony Tommasini, The New York Times) and a "mastery of dynamic as well as harmonic complexity" (Financial Times). Adolphe's works have received performances across the U.S. and abroad by renowned groups such as the New York Philharmonic, Inscape Chamber Orchestra, the USC Thornton Symphony, JACK Quartet violinist Christopher Otto and cellist Kevin McFarland, Grammy-nominated pianist Aron Kallay, the What's Next? Ensemble, Nouveau Classical Project, the Cornell University Chorus, and the Great Noise Ensemble, among others. In 2015, Adolphe received a Charles Ives Scholarship from the American Academy of Arts and Letters. Adolphe is a native New Yorker living in Los Angeles.
Current commissions include a viola concerto for the New York Philharmonic and a large choral work for James Conlon and the Cincinnati May Festival. The viola concerto, for Philharmonic Principal Viola Cynthia Phelps, is commissioned by the New York Philharmonic and the League of American Orchestras, with generous support from the Virginia B. Toulmin Foundation. This commission follows on the heels of the New York Philharmonic premiering Adolphe's orchestral work Dark Sand, Sifting Light as part of the NY PHIL BIENNIAL in June 2014. A winner of the international EarShot New Music Readings' competition, Adolphe's first orchestral work was hailed as "remarkably assured…an upbeat to something grander" (The New Yorker). Additionally, Adolphe is composing an opera set in present-day Iran with librettist Nahal Navidar.
Adolphe currently pursues a Doctor of Musical Arts degree from the USC Thornton School of Music. Prior teachers include Stephen Hartke, Steven Stucky, and Donald Crockett. Adolphe holds a Master of Music degree in music composition from USC and a Bachelor of Arts degree in Music and the College Scholar Program from Cornell University.
More from Julia
---
Photo Credit: Stephen Busken
Related Links & Assets
Become a member
Thank you for your interest in the League of American Orchestras! We are dedicated to advancing the orchestral experience for all.
Join Now