Hannah Lash
2016 Virginia B. Toulmin Foundation Orchestral Commission Recipient
---
Hannah Lash's Double Concerto for piano, harp, and orchestra was premiered by the Naples Philharmonic (Florida) and conductor Arvo Volmer on November 14 and 16, 2019.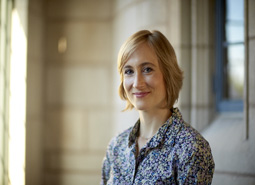 Hailed by the New York Times as "striking and resourceful…handsomely brooding," Hannah Lash's music has been commissioned by The Fromm Foundation, the Boston Symphony Orchestra, the Alabama Symphony Orchestra, Carnegie Hall, the Library of Congress, Cabrillo Festival of Contemporary Music, Columbia University's Miller Theatre, The Naumburg Foundation, and the Los Angeles Chamber Orchestra, as well as the Colorado and Aspen Music Festivals, among many others.
Lash has received numerous honors and prizes, including the ASCAP Morton Gould Young Composer Award, a Charles lves Scholarship (2011) and Fellowship (2016) from the American Academy of Arts and Letters, a Fromm Foundation Commission, the Naumburg Prize in Composition, the Barnard Rogers Prize in Composition, and the Bernard and Rose Sernoffsky Prize in Composition, among others.
In addition to performances of her music in the U.S.A., Lash's music is well known internationally. In April of 2008, her string quartet Four Still was performed in Kyev in the Ukraine's largest international new music festival, "Musical Premieres of the Season," curated by Carson Cooman. In 2016, her chamber orchestra work This Ease was selected as "audience favorite" in performances by the Philharmonisches Staatsorchester Mainz, conducted by Hermann Baumer.
Recent premieres include Three Shades Without Angles, for flute, viola and harp, by the Boston Symphony Chamber Players; Two Movements for violin and piano, commissioned by the Library of Congress for Ensemble lntercontemporain; a new chamber opera, Beowulf, for Guerilla Opera; and new orchestral works for the Cabrillo Festival of Contemporary Music, the Alabama Symphony Orchestra, and the Los Angeles Chamber Orchestra, as well as two concerti for harp premiered by the American Composers Orchestra and the Colorado Music Festival, both with Lash as soloist. In 2016, Lash was honored with a Composer Portraits Concert at Columbia University's Miller Theatre. In the 2016-2017 season, Lash receives the premiere of her Requiem with the Yale Choral Artists as well as the debut of The Voynich Symphony, a major large-scale orchestral work, with the New Haven Symphony.
Lash obtained her Ph.D in Composition from Harvard University in 2010. She has held teaching positions at Harvard University (Teaching Fellow), at Alfred University (Guest Professor of Composition), and currently serves on the composition faculty at Yale University School of Music.
More from Hannah Lash
---
Photo Credit: Lauren Ishida
Related Links & Assets
Become a member
Thank you for your interest in the League of American Orchestras! We are dedicated to advancing the orchestral experience for all.
Join Now