Fang Man
2018 Virginia B. Toulmin Foundation Orchestral Commission Recipient
---
Fang Man's League Commission, Song of the Flaming Phoenix: Concerto for Sheng and Orchestra, was premiered by the San Francisco Symphony and music director Esa-Pekka Salonen, with soloist Wu Wei, sheng, on March 3, 4, and 5, 2022.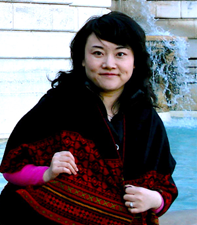 Hailed as "inventive and breathtaking" by the New York Times, Fang Man's music has been performed worldwide by notable orchestras and ensembles such as the Los Angeles Philharmonic Orchestra New Music Group under the baton of Esa-Pekka Salonen, Basel Sinfonietta, Slovak Philharmonic, American Composers Orchestra, Tokyo Philharmonic Orchestra, National Orchestre de Lorraine, Minnesota Orchestra, Prism Saxophone Quartet, Dolce Suono Ensemble, Music from China, among others.
She is the recipient of a Guggenheim Fellowship, Koussevitzky Foundation Commission, an Underwood/ACO Commission, Toru Takemitsu Award (Japan), Opera America Discovery Grant, the National Endowment for the Arts Award, Siemens Berlin Music Foundation Commission, NewMusicUSA Commission, the 47th UWRF Commissioned Composer, USC Provost Grant, Bank of America Gallery Commission, the Darmstadt Stipend-Prize-Award, Kate Neal Kinley Memorial Fellowship, Frank Huntington Beebe Fellowship, among others.
Her music has been heard at the Carnegie Hall, Symphony Space, Merkin Concert Hall, Miller Theater (NYC); Walt Disney Hall (Los Angeles); Espace de Projection of IRCAM-Centre Pompidou (Paris), Tokyo Opera City Concert Hall (Japan), Annenberg Center for the Performing Arts (Philadelphia), etc. She has been invited to new music festivals such as the Festival d'Aix-en-Provence, Centre Acanthes (France); Darmstadt New Music Festival (Germany); Gaudeamus Music Week (the Netherlands); Cabrillo Festival, Aspen Music Festival, June in Buffalo (USA), etc. She was invited as a resident composer at the Hermitage Artist Retreat in Florida, Aldeburgh Music Centre (UK), and Civitella Ranieri Music Foundation (Italy).
Fang obtained the Doctor of Musical Arts degree from Cornell University and a Computer Music and Composition certificate from IRCAM-Centre Pompidou in France. She obtained the Bachelor of Music degree from the Central Conservatory of Music in Beijing. Fang is an Assistant Professor of Music Composition at the University of South Carolina. She previously held positions as the Composer-in-Residence at the Baldwin-Wallace Conservatory of Music, and a Visiting Assistant Professor at Duke University.
More from Fang Man
---
Photos courtesy of Fang Man
Related Links & Assets
Become a member
Thank you for your interest in the League of American Orchestras! We are dedicated to advancing the orchestral experience for all.
Join Now