League Champions Diversity and Inclusion—a November 2016 Update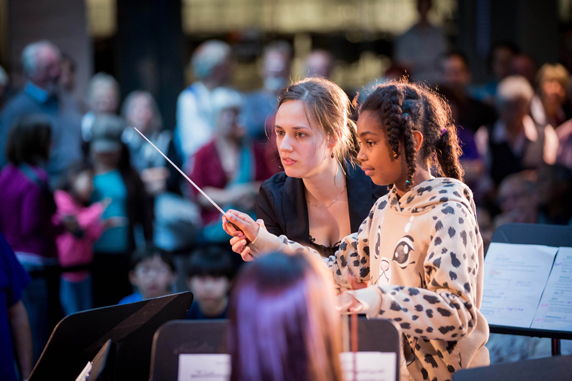 Diversity Studies
These pioneering studies are the latest examples of the League of American Orchestras' longstanding commitment to champion diversity, equity, and inclusion among orchestras in the U.S.
Racial/Ethnic and Gender Diversity in the Orchestra Field, commissioned by the League with research and data analysis by Dr. James Doeser, reports on gender and ethnic/racial diversity in orchestras among musicians, conductors, staff, executives, and board members.
Forty Years of Fellowships: A Study of Orchestras' Efforts to Include African American and Latino Musicians, commissioned by the League with research and analysis by Nick Rabkin and Monica Hairston O'Connell, is an in-depth examination of orchestras' past efforts to diversify their musician ranks with fellowships for African American and Latino musicians. The report presents program and impact data about diversity fellowships from 1976 to the present day, and explores the perspectives of fellowship program alumni.
Both reports offer insights based on rigorous data and careful methodologies. Racial/Ethnic and Gender Diversity in the Orchestra Field uses longitudinal data – going back nearly 40 years in some cases – to identify trends and to ultimately establish a baseline of where we stand today. Forty Years of Fellowships also looks back – examining the efficacy of one of the field's most common strategies for addressing the homogeneity of the musicians who play on stage – while looking forward: Forty Years of Fellowships contains a number of recommendations that could be used to strengthen not only fellowship programs but diversity efforts of all kinds.
Longstanding Commitment
These reports build on the League's ongoing efforts to provide leadership and resources in support of orchestras' efforts to better reflect the communities they serve. In the past year, the League held two major cross-sector convenings to develop national strategies and also focused its June 2016 national Conference on diversity and inclusion.
Convenings and Working Groups
In a special convening that kicked off the Conference, the League created five working groups from among a broad set of national stakeholders, each to create action plans to tackle a dimension of the diversity challenge. These groups and their strategic priorities came out of an earlier convening the League organized in December 2015 in partnership with The Andrew W. Mellon Foundation.
Two of the working groups, one devoted to developing a national network of mentors, the other, a national center for resources and support for musicians auditioning, have already found institutional homes, initial funding, and considerable traction. The other groups – on parent and family resources; the music education pipeline; and board and staff diversity – are making progress.
Public Statement
In 2016, in keeping with the League's diversity statement and mission, Jesse Rosen, the President and CEO of the League, made public comments – picked up by the national media — on a controversy at a meeting of the National Endowment for the Arts.
Programmatic Work
Programmatic work to date includes an Online Diversity Resource Center including a Diversity Assessment Tool for Board Members. League commissions, grants, and awards include commissions for women composers, and recognition for best practices in engaging underrepresented communities. League communications routinely highlight efforts among our members, including regular feature articles in Symphony magazine. The League also serves in a leadership role through carefully curated content related to diversity, equity, and inclusion in League events.
A Catalyst for Change
The League is excited to continue, though all our channels, to serve as a catalyst for change.
Become a member
Thank you for your interest in the League of American Orchestras! We are dedicated to advancing the orchestral experience for all.
Join Now